Ganesh Chaturthi is the most auspicious day for many Hindu devotees. This article is all about how to decorate home with different colors in order to please the Lord Ganesha. No doubt, we all find ideas to decorate home for this festival and sometimes we simply purchase the readily available options, but if you want to do something really creative, then why don't you apply your own ingenuity. At those times, you'll really need them. Here we are trying to bring some forth some ideas that are handy and it will at least give you a head start. Below here we have mentioned some ideas that will help you to get jump-started. These ideas are really cost effective and it can be easily achieved within a stipulated time frame.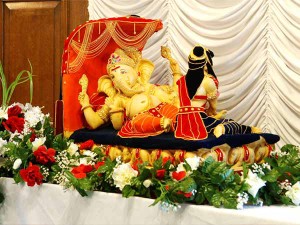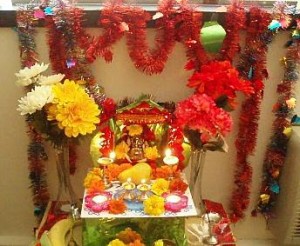 Use Thermocol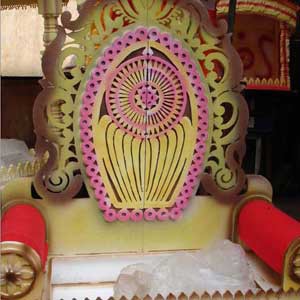 Thermocol sheets are very popular and it is most commonly used for Ganpati festival decoration. These sheets are used to build mandaps or temples. These come in varied sizes, shapes, and it can be used to make pillars or decorative walls. If you don't have much time in your hand, then there are innumerable shops that cater to your need. The local shops have ready made temples and designs are beautifully crafted. Further, it comes in various designs, so it is quiet easy and convenient. Also, it can save a great time and money too. So, it acts as a double edged sword.
Colored Thermocol Balls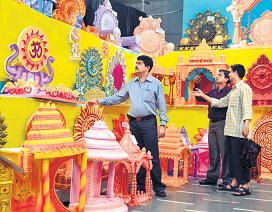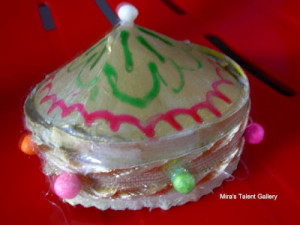 Thermocol balls add a touch of creativity and it perks up your decoration, especially if you are planning for Ganpati decoration. These balls come soaked in different colors and if is not available in the market, you can buy bottles of water colors or fabric colors and immerse the balls in it and then let them dry on any flat base or on a newspaper. To use these balls all you need to do is to apply glue where you want to stick them. Thermocol balls can also be used in different designs or for rangoli as long as you stick them in a proper fashion, obviously you don't want these balls to fly around.
Spray Paint Decorations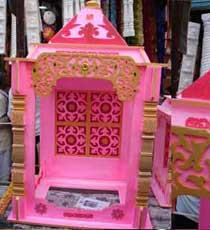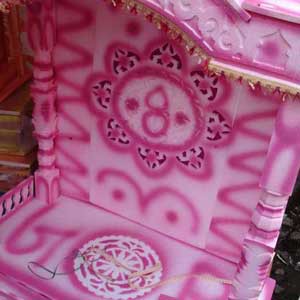 If you are thinking to build pandals using Thermocol sheets, then you can go for spray paint decorations. These decorations will give an instant uplift to your room. If you need some cost effective option for decoration and want to create a beautiful pandal, then it is the best way to decorate the pandal. The bottles are easily available in the market and it can be used with thick color and water mixture afterwards you can spray the same mixture on sheets or Thermocol pillars.
Accentuate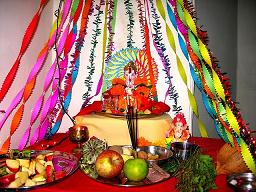 For Ganpati decoration, you may need a lot of accessories, and you can easily get from some stationary shop. For this special occasion you can buy ribbons, laces and decorate the mandap in various ways. It comes in different colors, in glossy finish, glittered and even layered. You can buy the same depending upon your preference. It can be used to decorate borders or it can be easily tied around the pillars of the mandaps to perk up style. It can also be used to decorate the Arti thali. In all these ways, you can make the home look vibrant, colorful and full of energy. Majority of the people like to decorate Thali in different ways, so as to match the style of pandal decoration. So, you can design the same according to your requirements. There are innumerable ways on how to decorate home for Ganpati celebration. It all depends how decorative you are. You can use a lot of things like colors, flowers, ribbons, rice, Thermocol balls, and lot of other colorful things to decorate the same.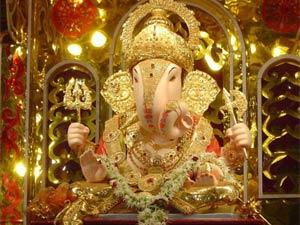 Now, the next set of ideas focus on how to decorate home in an eco-friendly way, so as to reduce global footprint. All these ideas are doable and they are pocket friendly. Further, you can easily decorate the home in less time. Thus, it is the best way to show of your creativity to the people. Here are some ideas on how to decorate home for Ganesh Chaturathi.
Add fresh flowers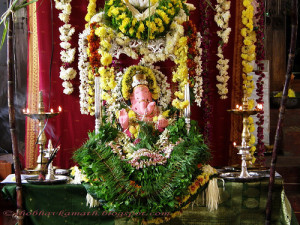 Do you have garden in your home or can you buy some fresh flowers from nearby local market? If yes, then you can take innumerable benefits of the same. It not only adds natural beauty to the home rather it makes the home look vibrant and colorful. More importantly, it adds freshness and fragrance to home, which in turn gives a celebration touch. You can change the flowers every day, every morning. You can use the flowers to decorate surroundings of Ganpati idol. The flowers are available in different designs, colors and styles. If you don't know from where to buy flowers, then don't panic. There are innumerable shops in the market that sell artificial flowers which look alike natural flowers, so you can buy them. It may coat a little, but it can lend more or same the same effect like the real flowers.
Use scarfs, dupattas, chunris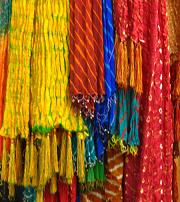 To create a perfect look for Ganpati decoration, you can use your colorful clothes. If there is any female in your home, you can take it from her or you can even borrow the same from friends and family and then you can see how colorful the home becomes. It is the best way to add color to your home. These clothes can be in form of scarfs,dupattas, chunri or any other thing that match with the overall theme of Ganpati celebration. The idea is to mix and see and get the best look. Remember; do add a few layer of decoration along with it like lights, flowers, ribbons to give a finishing touch.
Rangoli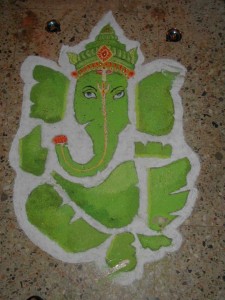 Rangoli designs have become so common that today everyone knows a bit of it. Further, it is part and parcel of all Indian festivals. It gives the surrounding colorful and attractive look. Majority of the people use rangoli as part of the decorations. Many designs related to Lord Ganesh can be easily made. Moreover, in order to create a Rangoli design, you need not to be a professional; rather even a simple design will work out like borders of the walls or near to the doors. It will perk up the beauty of the room; and it will be lauded by your beloved. Today, there are many colors available and you can easily buy from the market or look in storage; if you have any color left from Diwali. You can also use flowers to create a rangoli designs. Another idea is to use colored chalk , create a beautiful drawing and place flowers on it. It will truly create a perfect ambiance of festival.
Lighting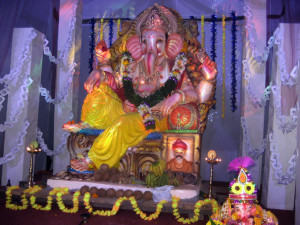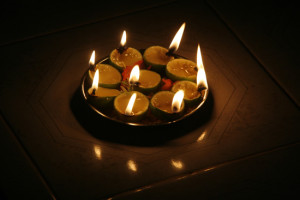 Indian Festivals are incomplete without proper lighting. There are a lot of decorations that you can do with the same. There are innumerable of lights available in the market and you can use it depending upon your preference. It comes in various ways like in form of garlands, diyas and flash lights. You can even use the same garlands that you used for Diwali last year. It is the cost effective way to celebrate a festival. But ensure that the theme remains clear. The whole decoration should not look like a Diwali celebration rather it should be a Ganpati celebration. Further, ensure the lights should match with the overall decoration of pandal. You can also use diyas for home decoration or place them in between flowers. It will give a finishing touch to your Rangoli.
Eco friendly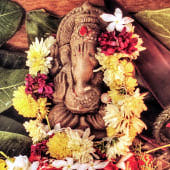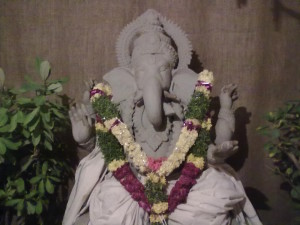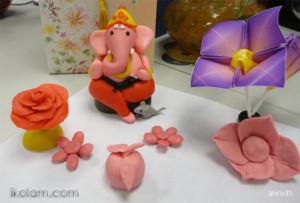 Due to phenomenal rise of global warming, everyone should make some efforts to find ways for eco-sustainable Ganpati celebrations that not only add beauty to home but also save Mother Earth. Further, the decoration items used should be recycles to preserve nature. If you are good in arts and crafts, then you can go for some DIY designs. These designs not only enhance the beauty of home, but it is also a cost effective way to go green. There are innumerable things that are available in your kitchen. With it you can easily decorate the home.
Garlands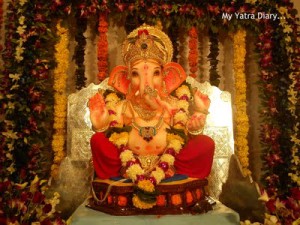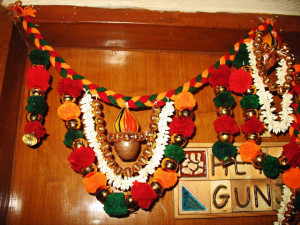 In order to make decoration shinier, use decorative materials. Further, if proper lightning is done, then it can make a home look very vibrant and colorful. Today, the markets are decked with garlands and other decorative items. In case you have purchased such items for Christmas, then you can use it now. If you are creative enough, you can even make something out of it. After this festival is over, you can again use the same.
Other Decorative Items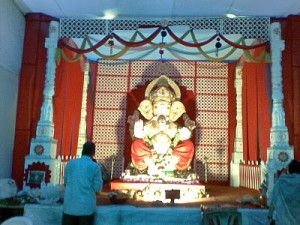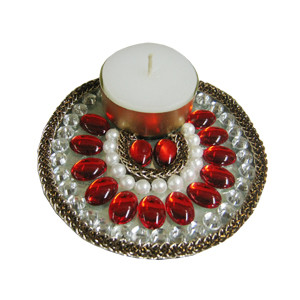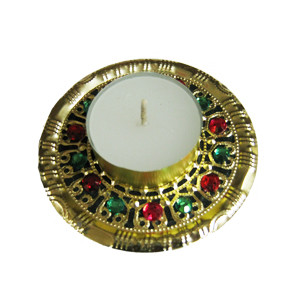 Majority of the times it may happen that lot of things in your home can be easily used for decorations, even though we are not aware of it. Like do you have any decorative set for cupboard or anything else? Well, take a look and try to make it a part of decoration. There are a lot of things that you can use like styled vase, showpiece, decorative garlands, etc. The idea is it should match with the overall décor of the room.