Aside from the hours spent sleeping in your bedroom, the kitchen is probably the most used room in your home. With so much activity happening in this heart of the home, it makes sense that people want to feel happy and comfortable in their kitchens.
These seven kitchen design trends provide luxury, convenience, and style that are sure to please most any buyer.
Softer, Muted Colors
Change is on the palette horizon in kitchens. White is still holding its own quite well, but cabinets and back splashes are displaying more muted colors like charcoals and grays. You may even see light pastels, like pale green-gray and pale blue, in more and more kitchens. Wood tones are lightening up too with walnut, white oak, and whitewashed woods stepping forward as the leaders.


Cleaner Lines
Less ornamentation and cleaner lines. Utilitarian looks are standing out more and more as we embrace simplicity in our homes. Accents like lighting and back splashes are receiving more attention as pops of personality while cabinets and counter tops are getting simpler and simpler.
In fact, mid-century mod styles are making a comeback in light wood textures and white color palettes because of their clean appearance. This simple and functional way of living is increasing in popularity throughout other rooms in the home, and is making its way to the kitchen as well.
Convenience
To keep that clean line look, kitchens need to also be free of clutter. Keeping everyday items off the counters helps kitchens to remain clean and beautiful. Because of this, kitchens are opening up to more storage options. Rollouts and tall pantries are making their way into more kitchens, while lazy susans, spice pullouts, and trash and recycling pullouts are becoming more and more desired. Built-in coffee makers and wet bars are also becoming popular.
In addition, technology is more and more important in the kitchen. New home builders are designing kitchens with discrete charging stations so homeowners can keep their tablets and phones ready to go at any time. And several smart appliances are now available with great handy features available from your smartphone.
1980s Elements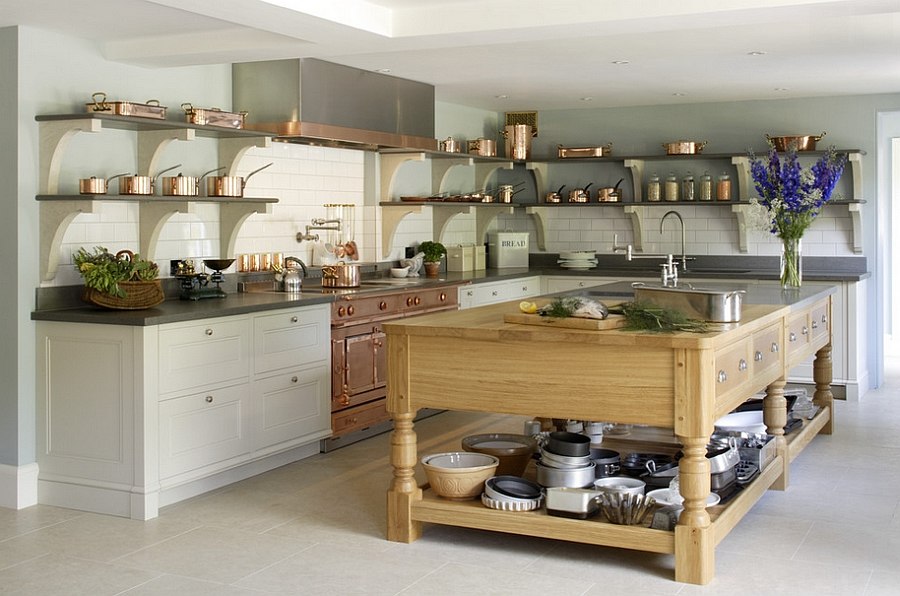 Don't freak out. Yes, the '80s are making an impact in kitchen design trends, but it's not what you think. Brass accessories and high-gloss surfaces are back, but in a more refined way this time around. For example, brass fixtures are showing up with satin finishes, rather than shiny. Natural materials are also being incorporated into the '80s inspiration, resulting in an updated, pulled-together look.
Kitchen and Living Room — Coming Together
The lines between kitchen and living room are blurring. Instead of clearly separate spaces, kitchens and living rooms are blending together to create one big, open space. This open living concept creates the need for clearly delineated areas with the arrangement of furniture, area rugs, and lighting.
Contrasting Cabinets
Mixing and matching cabinet colors is a way to make your cabinets look more like stand-out, unique furniture pieces. Try a white paint for your upper cabinets and a gray/brown wood for your lower cabinets or have your kitchen island stand out with a separate color.
You can also combine different countertops for a unique and stylish look. One popular combination is wood countertops next to stone or stainless steel.
Backsplashes as More than Background
Having fun with the backsplash is becoming more and more acceptable as homeowners get the chance to let their personalities shine through in this area. Bold patterns and colors can really work well with a soft-palette kitchen. Mirrors, marble, and tile are popular materials to use.
Your Style
The beauty of kitchen trends in 2016 is they can be molded and manipulated any way you like. There is no exact formula to follow. You can have your new home builder use whatever elements appeal to you, and discard the ones you don't like. That's one of the many great advantages of building a new home.