Nautical themed bedroom are quiet popular now-a-days. Whether it is a living room or a bedroom décor, the first thing that you should do is to paint the walls in blue color, like the water. Depending upon your taste, you can use anything starting from pale blue to bright to dark blue color. It will work great with a nautical theme. When decorating a nautical themed bedroom, consider scenes that you may encounter when walking along a broadwalk or at marina, and use those as an decoration.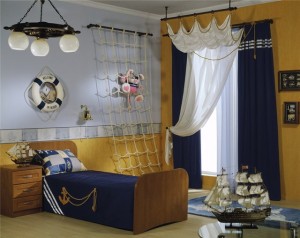 Nautical décor should include elements like that you'll find on a boat. Natural ropes, netting, accents in a bright color and a porthole motif are the easy way to tie everything together. You can also add few flags tied to the tallest piece of furniture in the room or use wooden flags can be hung around the top of the walls around the room. If you have wood paneling, don't try to cover it up; wood paneling on interior walls can remind you of the interior cabin on a ship or inside the beach house.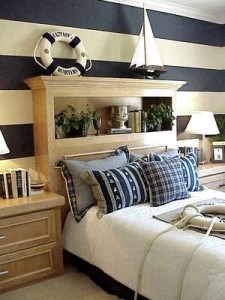 For the walls and windows, canvas is a traditional material that is quiet popular in nautical themed décor. It can also be used for curtains, dust ruffles for the bed and other intricate details. Canvas curtains hung with the use of large eyelets are a classic piece of nautical themed décor. You can even recycle an old sail, if you have access to the same. The canvas can also be used to cover cushions and pillows.
Use natural wood furniture or paint the furniture with white or cream, or something possibly with a distressed look to make it fit your nautical themed décor. The paint should not be shiny or new looking, it should look as if the furniture has had years of use on the beach or out to sea. If you are selecting to choose a whole new set of furniture to go with the nautical look, go for those that belong to beach cabin, including Adirondack chairs and wooden furniture. Boat shaped beds are also possibility to add. If you want to décor the bedroom creatively, go with it or you can use the standard bed, blue and white bedding with red accents. These are traditional nautical designed bedroom with lighthouses, anchors, ship wheels, life rings and vintage glass fishing floats to nautical styled walls. When done in a right manner, nautical themed bedroom is unique and inviting. It should remind you strolling near the seaside. If you really want to add pop to the room or want the same to be more relaxing and exciting, select a color scheme that consists of white, khaki or any sea shade. Adding a zing of red and yellow adds requisite excitement to the room.