A bedroom of a person is a personnel gateway which expresses your choice of colors and your feelings, and collections. Learn the main rules to remember while decorating your bedroom.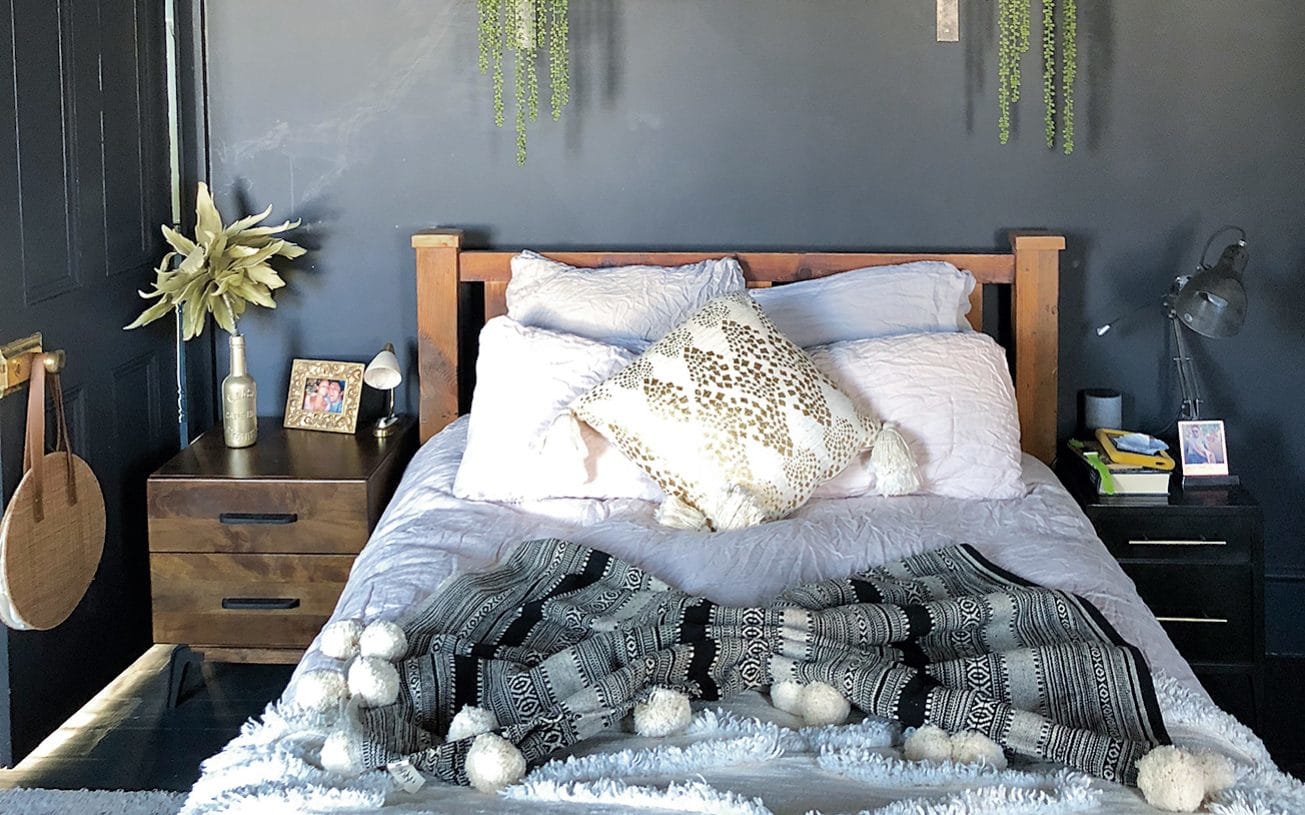 Choose sober colors. Instead of going for bold and primary colors make choice for soothing shades and restful palette monochromatic tones. As per color theory  gentle  hues of blue, lavender or green are considered calm. They help to set the mood of coziness and comfort. Dark blue, Pomegranate, topaz can also be included in this. Always use toned down version of your favorite color in your bedroom. In choosing colors for your bedroom do not forget to overlook ceiling of the room.
Ceiling is the fifth wall of your bedroom, when you lie on the bed and see the bland, blank surface. Add a subtle pattern of the color. Paint the wall with some lighter version of the color. This will help to visually lower the ceiling and give the space a feeling of comfort and intimacy. Other option may be stencil or wallpaper the ceiling. You can use decorative paint for ultimate luxury. Add molded medallion and chandelier of crystal or delicate shades bringing color pattern. Textured wall finish can envelop you in sensuality and warmth.
Bedroom should be simple. Bedroom should give the feeling of warmth coziness and elegant irrespective of style of decoration you use. Always leave the space of three feet bed and side walls or furniture like table or dressing table.
Furnish your bedroom with the only what you need. A bed beside a table a dresser and chairs are necessities. If you have got space then go for a closet and chest of drawers. Accessories should bare minimum. Choose a beautiful piece of artwork and arrange some family photos, arrange flowers or some beautiful candles.
Furniture should be of right size. Try to get furniture according to the size of the room. Always get the furniture as per size of the bedroom. Small furniture or accessories will give your room a larger look.
Arrange your room in such a way that it should appear spacious and cozy. Bedside tables or doors behind can be used for hiding books lotion, reading glasses within the reach but not visible. Choose skirted table or dresser with drawers. Use trunk or storage bench at foot of the bed to store extra bedsheets, blankets, or pillows. For easily reachable books or accessories use a headboard with built in shelves.
Create a intimate small lounging area with a comfortable chair and footstool at the end of your bed in a corner.
Outfits of the bedroom should be beautiful and luxurious. Try to get cotton bedsheets this create crisp smoothness worthy.
Windows should be properly covered and with some opaque blinds or curtains.
Lighting in the room should be proper and bright. Get bedside table lamp with movable arm install  a separate on/off switch with adjustable dimmer.
Avoid cell phone, computer, laptop, television and other gadgets away from your bedroom. Create a cherished place to relax. You will love your room dedicated to reading and romance.