An office should reflect mindset of an organization. A beautifully elegant offers the client the right message about the company. Hence, the office designing is an important aspect of successful business. The article provides a deep insight about interior designing and how it helps to become more successful in your business.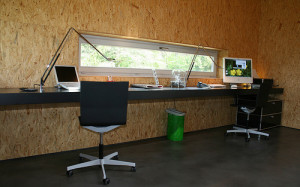 No matter what your work or profession is, take time to decorate the office. Majority of the people spend at least 40 hours a week in office, so its become crucial to create a space where you can remain productive and that makes your job little more fun. Your office makes a statement to others who you are, so keep the decoration simple, organized, comfortable and most importantly add a professional aspect, while rendering a personal touch.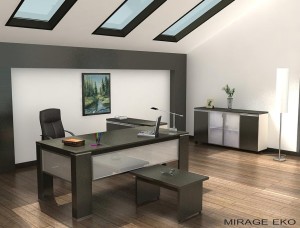 Think about the image that you want to project to your clients- To keep pace with competition, it is necessary to think about an image that you want to create. In case, you are an accountant or a lawyer or president of a company, the office should reflect professionalism and order. But in case you're a graphic designer, website developer, photographer or work involving creativity, then your office should display the same. It should look colorful, trendy and artsy style.
Here are some tips that you need to consider:
Select the color theme- Neutral colors like off white, beige, tan or taupe, are considered as the best choices for professional offices, while a variety of bright colors would work for environment like per-schools and art studios.
Furniture- Do give some thought to the office furniture before purchasing it. Mahogany and dark woods reflects professionalism, while stainless steels and lighter woods like oak, pine or maple looks great for teacher classroom or for a reception area.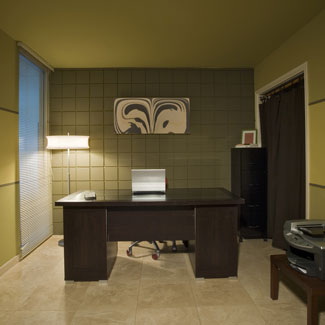 Ensure that you select comfortable and ergonomic chairs- Working in an office for a prolonged time period may cause several health issues like headache, carpel tunnel or sometimes it may cause upper back pain, neck pain or a poor posture. Hence, it is important to select a furniture that best suits to your needs and requirements. A poor chair can dismantle your posture and can be a cause of pain.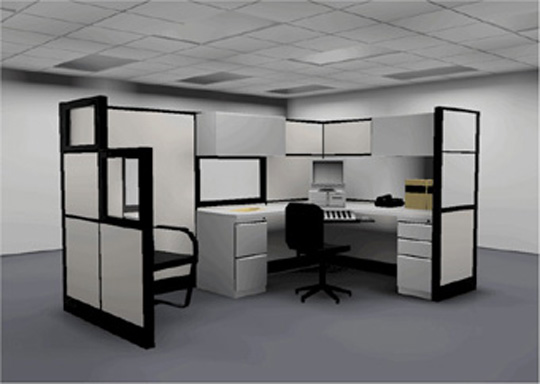 Go for credenza, smaller conference table, bookcase- It is crucial to have good and convenient place where you can keep books. It is a neat way of decorating the office. Moreover, the office should be well equipped with such items.
The office should be a blend of style, comfort and convenience. The possible clientele should be taken into consideration, while designing an office. The noise level can also be reduced by proper usage of things.An office or a commercial space offers you more options when it comes to the selection of designs. A suitable design can be easily selected for the conventional business, a classic finesse add points to the client's impression. Looks, color combination need to be decided upon, and the furnishing should also be taken into consideration. Intelligent utilization of work space, availability of air flow and free movement, power plugs for appliances are the must have in the offices. With right kind of planning all problems can be easily coped up with.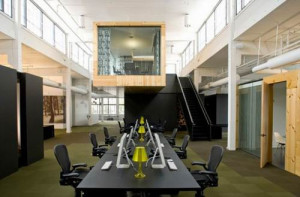 The next thing that needs to be taken into consideration is lightning arrangements and the color schemes. It should be done in such a way that the distraction is reduced to the minimal. It improves the productivity at the the home. An office with proper furnishing is always a value addition and elegant scheme will give a tidy and clean impression to each and everyone. The pleasant environment can help you to achieve more and it will lead to success of an organization. Budget planning is another thing that you need to consider, while you shift to a new office because if it is not planned, a design suited to you can be more expensive than required. It should be the first measure while designing an office. If you have an elegant office with exceptional design, the success will be brought forward. It will also enhance the productivity. A professional office should reflect professionalism and it can take you to the new heights of success.
Rethink about office supply source- The next thing that you need consider is instead of opting for typical office supply desk stores. It is necessary to place small decorative dishes that can easily hold the clips or use vanity trays that can double as a letter holder or way to organize tape dispensers and staplers.
Make time for work and play- It is necessary to create a separate space for a place work and play. A place to contemplate ideas and relax offers relaxation to the brain and it is as important as actual workplace.
Pick up paintings and beautifully crafted pictures to hang on to the office walls along with the framed certifications and degrees.
Another idea is to pick some greenery to add to your office. Not only it looks pleasing to the eye, but research has unveiled the fact that it adds productivity to the office and helps to keep the air clean by removing the toxic air and emissions.
Select paintings or tastefully framed pictures to hang on your office walls along with your framed certifications and degrees. Last but not the least; to make the office clean and time you can use a desk clock, a business card holder, a pen set, pen holder or a pencil holder or you can even add attractive frames for hanging personal pictures. It makes the office look complete.