Steampunk is a new decoration statement that draws inspiration from Victorian era. This decoration style is based on iconoclastic steam engine, an invention from the industrial times. This decoration style reflects Victorian ethos and is borrowed heavily from literature-like science fiction that has made its presence in 80's era. While referring to this interior decoration the terms like refurbishing, restoration and deconstruction comes to our mind. In this article, we offer you some tips on how to incorporate this decoration statement in your home.
Spruce up your home with steampunk decoration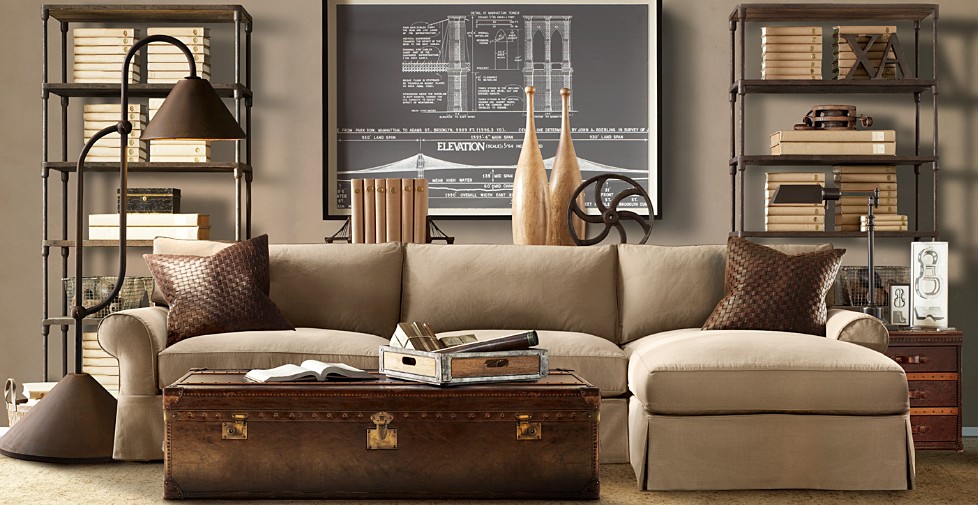 To start with this decoration, add a lot of ingredients like dark wood, leather, metals of different types that are rusty and more importantly, machinery with latest technology thrown in for taste. A wonderful blend of gauges and gadgets or a combination in form of function and practicality is what this style all about. This decoration style is achievable in two ways- rework your home completely with accent or introduce few accent pieces to improve the ambiance of the room.
Living Room-To incorporate a steampunk decoration into a living room, add a leather sofa. Te color of sofa should be dark, with metal tabs holding the upholstery to the frame. If metal trim can be added to the frame, it will lend more authentic look. An industrial weighing level is a one-of-a-kind seating option for those who are bold and unafraid.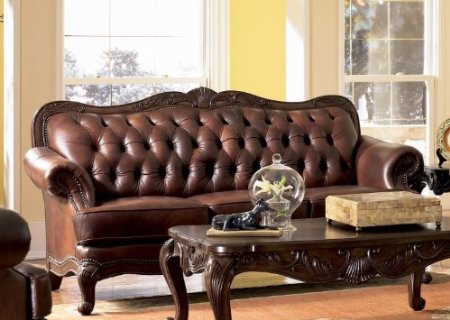 Coffee table– place a coffee table with pulley wheels and exposed joints to make it a center of attraction amidst modern day decoration. You can buy ancient ceiling fans as a frame or a table fan as a photo stand by pinning picture to the blades. Along glass cabinets, use walnut wood and cast iron book shelves to highlight glass figurines.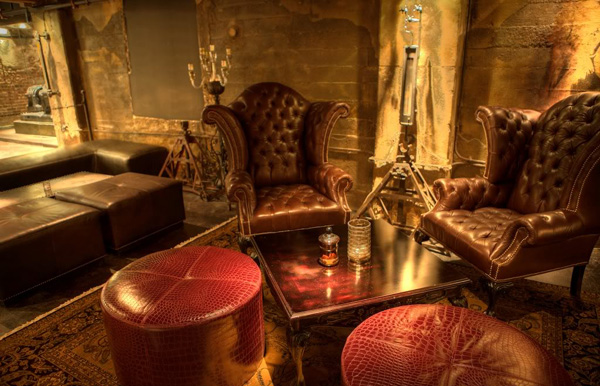 Study Room- For study room, you can opt for a sewing machine stand that has decorative metal legs. You can use the same table for PC, music system and TV. To further add, use an old globe, typewriter or microscope as decorative pieces. All these things complements well with console tables in a modern setting.
Kid's room- in some parts of home, the look can be created by adding surface finishes. Imagine a child's room sporting one wall decal of cogs and wheels of different sizes on a single part of the area. Book ends can be added with metal pieces having a plate at a single end and a pressure gauge at other end. Black, cast iron and copper are some options to choose from. The roof can be further supported with help of metal rafters . a glass or marble staircase completes the look.
Kitchen- the modular kitchen can be given a new twist with a black metal oven and exposed fittings for the cabinets. On kitchen doors or cabinets, add a nautical look by using valve wheels as door handles or knobs. This look can be extended to the outdoors by creating awning of metal with chains supported by brackets.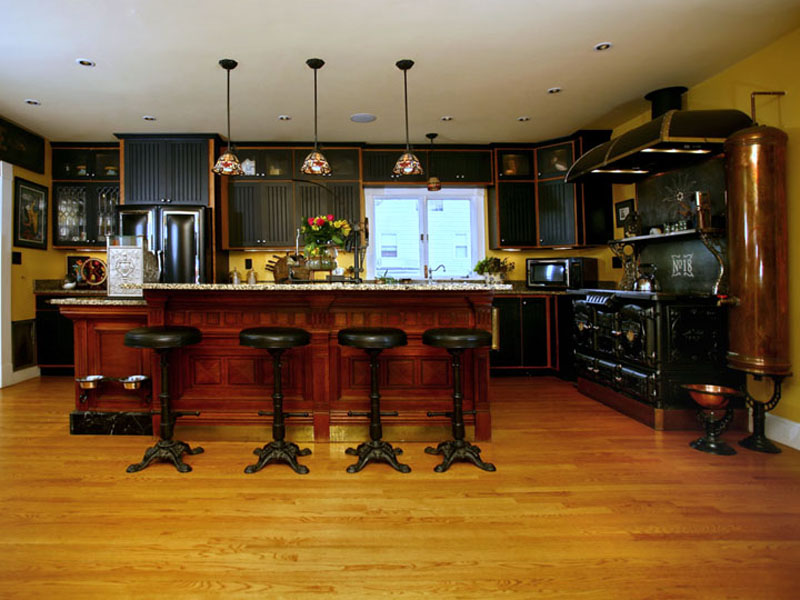 Bathroom- renovate the bathroom using this futuristic design. Add copper pipes, metal basins, old faucet, metal light switches and mirrors with a metal frame.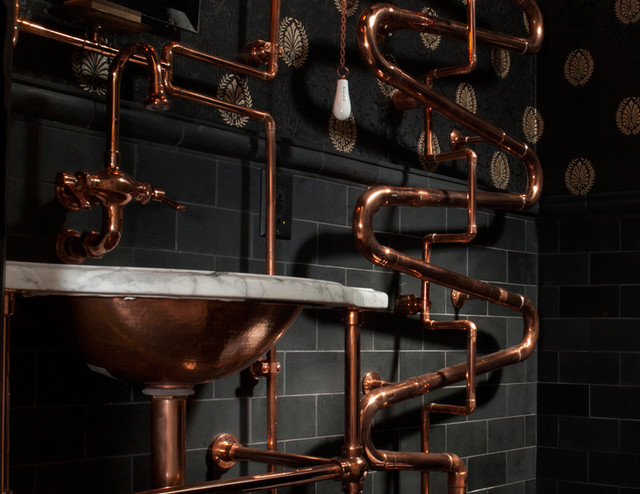 Décor Objects that can be added to a room
You can easily create industrial revolution in your home by adding few of the decorative objects as mentioned below.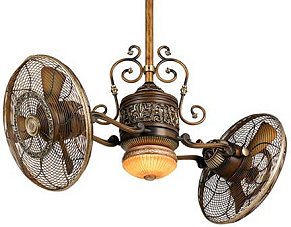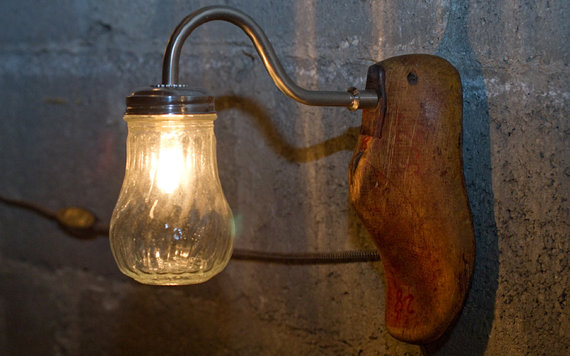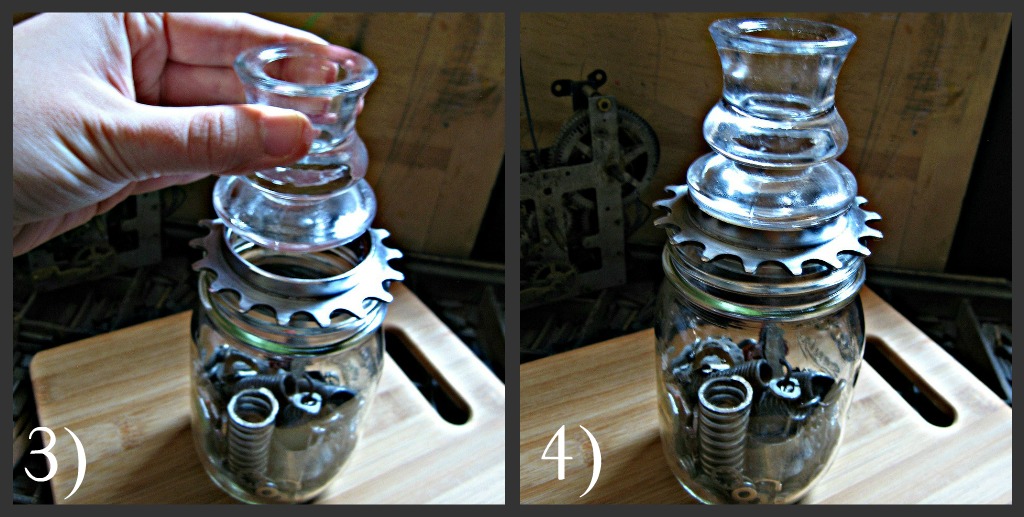 Hang an aviator goggles– am aviator goggles in the bedroom make it look distinct. Other accent pieces that can be added to the home include candle holder from gears. Decorate a writing table with metal inkpot and pens with quill border. This will make it truly unique in all aspects.
Model of time machine– You can add one of the most controversial things in your home time machine or dials and valves as paperweight while decorating the walls with paintings or picture of mechanical fittings.
Copper boiler– another thing that can be added as a focus of attention includes a glass container filled with keys. Vintage keys can be added on a wall with padlocks. If not as decorative piece, these can be used for their actual purpose. Boilers can be added to give an authentic look.
Vase– find a corner in your home and add a vase or container filled with flowers. Old trunks with studs, external wood slats and exposed latches in metal work can be used as coffee table.
Create a collage– Mount photograph, cups as light brackets and match boxes to create a collage.