Have your kids outgrown from those cuddly pinks and soft, well your tiny tots room now needs to be revamped according to their age group and individuality, they need a space of their own to relax, study, to hang out with the friends with high degree of privacy. Make it look beautiful and inspirational and let their creative juices flow in the most prominent years of their lives.
Add tropical shades to the room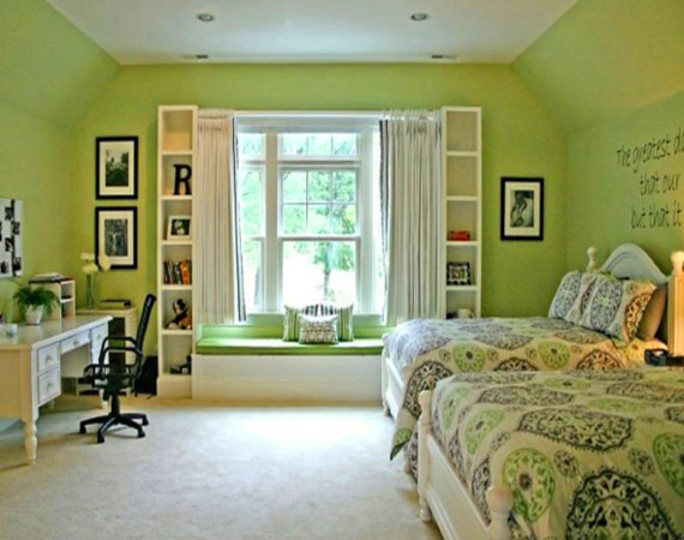 Tropical shades like cranberry red, luscious blue, and emerald green and bright yellow add fun and youthful aspects to their lives. You can even blend traditional and contemporary elements to make it look whimsical, for example a bold orange with black and white accessories do the trick. Buy from some good store and experiment with hues and texture.
For boys you can add slate grey, delicate blue and warm brown and look cool and young
For girls-buy something trendy. Purple is the best among teen girls; it calms down the space, add a subtle feel.
How to organize the things
As the kids grow older, you are going to face issues with organizing and how to keep mess at a bay. So, how to tackle this problem? The best way to solve this problem is to have smart furniture in your home. Daybeds are the best solution for smaller rooms since they make the room spacious for sleeping and to have a chat with the friends.
For boys what kind of furniture is the best- Boys can use various beds like car beds, sturdy beds, bunk beds or lofts with storage cabinets and study beneath. You can even add a reading corner with cabinets to get that geeky look.
For Girls- For girls white storage and pastel beds are the best. Oversized floor pillows can be used for those girly themed parties.
Use black and white accessory- a brightly colored with contrast or black and white accessory with a beautiful backdrop is perfect for any teen bedroom. You can even experiment with different textures and patterns on the bed. It will redefine the look. They will add texture to the room. Go beyond transitional chandelier, stenciled wall design or a swing to create personalized space for friends. Don't forget to add vintage lighting, a guitar on the wall and some bold window treatments to lend drama.
For Boys- starting from boys rock band posters to cool sports car-all these wallpaper add character to the bedroom.
For Girls- white furniture along with billowy fabrics lend a dreamy feel. Add a mason jar chandelier, headboard and framed magazine cover.