Having a good furniture design will make your TV watching experience pleasant. Usually TV unit is added in a family room and basement. Most of the furniture used to support TV unit has two functions: to store items and display the things that you want. This furniture design should be able to fulfil bespoke requirements.  It is specifically made for home with open space concept. The beauty is really important because it is to be added in a living room. So, what criteria need to be determined before buying or arranging furniture around the TV unit?
Measure area-However, your furniture design for TV unit will be limited. Add large unit will offer flexibility and other advantages. If you are faced with constrained space, only minimal furniture you can add there. If it happens to you  that cabinet under TV is your priority to store and put any items related to TV function, like DVD, game console and speaker.
Paint the wall-You need your furniture design for TV unit to be as a focal point, so use wall as background to show your high end Tv and furniture. Some good colors that complement your TV are cream, white, beige, yellow, coral reef, grey and any colors that can help you to look TV prominent. You may even add plywood sheet that complements with your furniture design.
Materials- Generally furniture design for TV unit is built from plywood. Plywood is a strong wood and is a well known material used in modern furniture. When you talk about TV unit, it means you are talking about contemporary decoration because TV is a part of modern lifestyle. Maybe your TV will not fit the requirements.
How to arrange fixtures-Depending upon the area, you need to arrange the fixtures left and right side of TV. If you plan to install shelves above TV, ensure that you install strong and avoid bad possibilities, like light shelves and put minimal items there. Avoid possibility of these shelves falling down.
Colors- Don't make boring appearance. Fill the room with colors like it will decide cabinets and shelves to make decoration complete. There are three main colors white, brown and black. But you may even add accent colors if you are bored with plain color. Some of the great ideas including you paint drawers, cabinet shelves or doors with maroon, lemon, and green. They are really nice colors.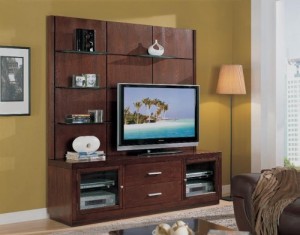 Remove clutter- As described your furniture TV arrangement will serve as a storage space for display any item collections. Your TV room is not only to watch movies and programs,  but this is a room to gather your family, relax and enjoy.