Finding the right bedding ideas for boys is not too difficult. What you need to do is to match the bedding with the decoration theme. From the selected theme for decorating kids' bedroom, one can get information about color and picture. The entire theme comes with certain color and picture.  Engage the kids when buying their bedding because in the end, they will use this bedding for sleeping. Make sure that they are happy with the bedding. Here we have presented some ideas for the same:
One of the popular kids bedding theme for boys is outer space theme. For adult people, we remember legendary movies like Star Trex and Star Wars. May be kids don't know about it, but anything related to outer space and travelling through outer space creates curious feeling for kids. So, it is the favourite choice among kids. This bedding when ornamented with planet, galaxy, spacecraft, astronaut and space ship. Paint ceiling with outer space theme and let your kids travel beyond the earth.
Jurassic Park-Since movie Jurassic Park become the blockbuster, instantly all kids have started loving dinosaurs. Bedding with T-Rex picture will add a new sensation to a kid bedroom. Select T-Rex funny face and not a fierce face. Add a throw pillow with T-Rex shape and dinosaur shape to complete the look of this bedding.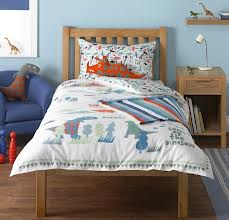 Add cartoon characters- Popular cartoon characters like Cars, Nemo, Shrek, Spongebob offer new ideas. These cartoon characters have certain colors like orange and white for instance Finding Nemo, yellow for Spongebob and red for Cars. Some of the bedding using these themes are designed along with pictures, but they are cut and sew to form these figures like a real car, inspired from cartoon cars. It's a creative way to decorate kids bedding.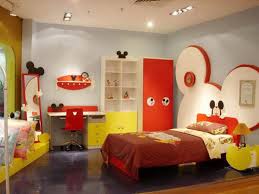 Cowboy theme- All boys love to showcase their audacity. Cowboy theme inspired from kid's movie like Lucky Luke is the best way to express their emotions. Bedding that come with horse, cowboy, cow, cacti represent this theme. Select bedding with Lacy Luke driving horse or stand on the wall in front of bar.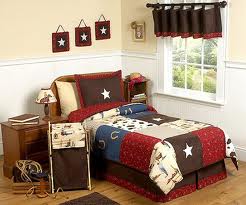 Sports Theme- Another theme for kids is sports theme. Every boy like some or other kind of sport, so incorporate that theme in his bedroom. If boys love football, decorate bed with flag pictures or football club on bedding or pictures of balls that come in different sizes.