Teaching your children the foundation of bathroom responsibilities can be a tedious job. Starting from toilet training to how to brush your teeth, kids bathroom should be an inspirational and fun place that help them to learn and grow. Decorating a kid's bathroom can borrow inspiration from their bedroom. Arranging theme, color, creativity and area designed for small hands and naughty minds is an easy job. Here are 10 decorating tips for kids bathroom. Depending upon their age, the kids can use these tips. For younger children primary and bright colors are inspiring and for matured children, opt for neutral color and pastel palettes. It works.
Tips on how to décor kids bathroom
Tip no 1-Create a colorful backdrop-while most of plumbing fixtures should remain in neutral tones of white, bone or brown, the backdrop around them should be fun and colorful. Consider painting the cabinetry, walls, wallpaper and stencil playful quotes on the walls. Be careful while using wall stickers, as humidity in the bathroom shoots out and it may cause them to not to adhere well.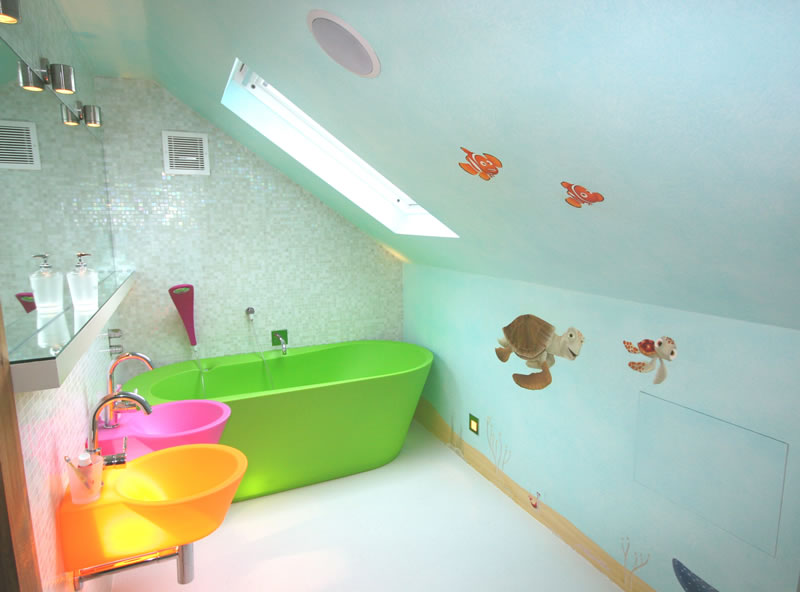 Tip no 2- keep the walls clean with durable surfaces-when decorating a kids bathroom, especially around the wet areas like toilets, sink and bathtub, ensure that the surfaces are easy to clean and is durable. Ceramic wall tile, scrubbable wall paint and bedboard paneling is perfect to start with.
Tip no 3- Have ample amount of lighting- this tip is must for bathroom! You don't need to have dark areas in the bathroom. For cleanliness issues for little ones it is important to have light.  Bathrooms are an apt area where you kids are likely to get hurt, so ensure that there are enough of light sconces, overhead ambient lighting and even pendant lights over the vanity. The lights should be bright and shouldn't cast shadows.
Tip no 4- Organization is important for kids learning–when decorating a kids bathroom it is important to keep it organized, so that you can find the items easily. Vanity sinks with open shelves below, bath toy storage area with suction cup holders and baskets for toiletries will help the kids bathroom to remain tidy and clean.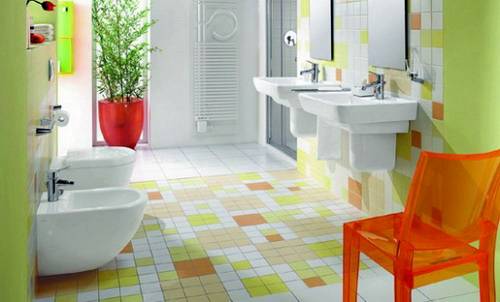 Tip no 5- Small fixtures are apt for little ones- Believe it or not there are various small plumbing fixtures ideal for toddlers and small children. There are mixed reviews whether small fixtures are good for children or not. Irrespective of the reviews, when planning for kids bathroom, know that these option also exist.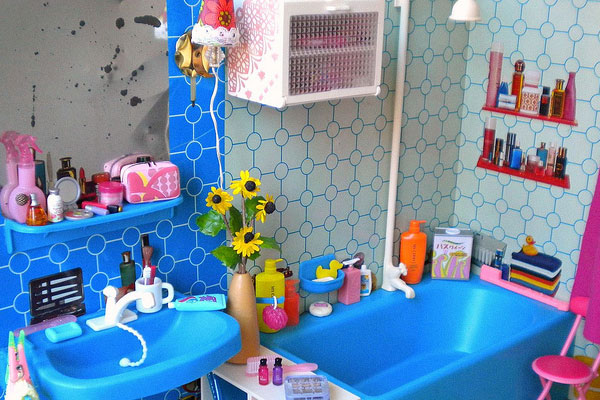 Tip no 6- accessorize the bathroom in budget-when you can spend ransom amount on decorating kids bathroom, you also realize that color palette matching accessories are cost effective to give you a great look! Starting from color coordinated bath linen, area rugs, shower curtains and toiletry holders can mix and match patterns and colors to attain that designer look.
Tip no 7-select a theme carefully-if you don't know how to decorate the kids bathroom, consider selecting a theme that they enjoy. Starting from jungle theme to sports to adventure to fun time pass activities to their favorite cartoon characters, the options are unlimited. If your child is old enough, ask them on how to décor their bathroom. Involving your kids is a big fun!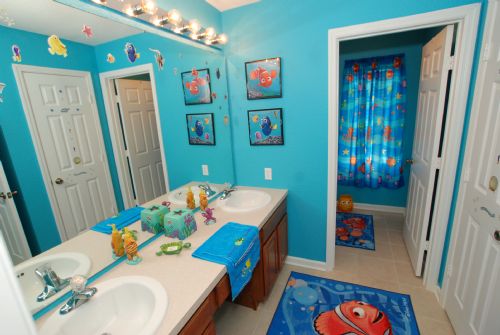 Tip no 8-consider bathroom safety features-make sure that the bathroom has adequate safety features instilled in the décor. While beautiful vanity cabinetry appeals, but if they are not secured correctly they can be dangerous for your little ones. Make sure that all cabinetry, phenyl and decorative items are kept out of reach by kids.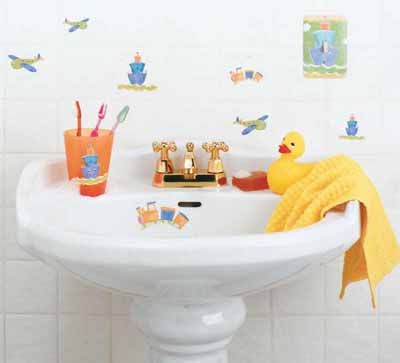 Tip no 9- Updating a teenager's bathroom as and when required- For older child and teenagers people go overboard with the accessories and color coordinate the décor may not be as strong. Instead opt for temporary accessories that have power to revolutionize space according to teenager's mood like colorful towels, area rugs, coordinated art work can be hung on the wall. All these accessories are perfect to make your teenagers feel comfortable.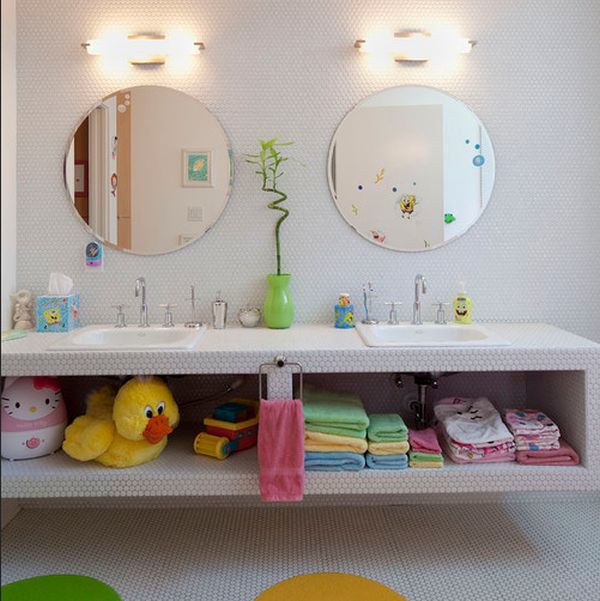 Tip no 10-Try to make it simple-It is simple to wrap up or decorate any room of your home. Bear in mind, to have fun while decorating a kids bathroom and seek inspiration from magazines, interior design blogs or visit local houseware stores. Many stores offer instant bathroom décor for you. Starting from coordinated color schemes to accessories you can mix and match according to the requirements. Don't think too much.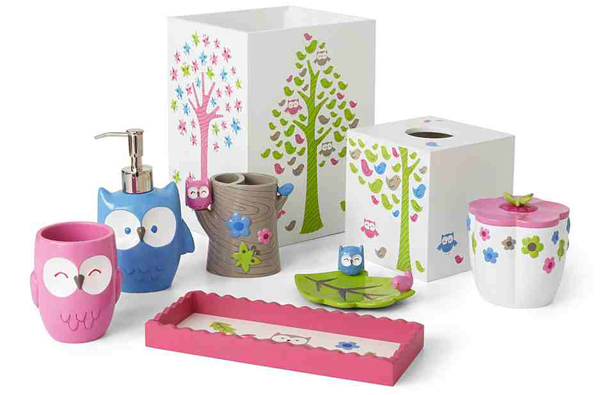 Bringing all the elements together for kids bathroom décor can be easy and enjoyable task with these tips. Do consider the age of your child when decorating the bedroom and also your lifestyle. If you are a working parent and don't have time for quick clean up lot of toys in bathroom, keep wicker baskets and store them. Remember, you are teaching and inspiring your kids to be creative… do you have any other creative idea in your home?
Thus, through all these ways you can give a new look to your kids bathroom, so adopt all these tips and see the difference.
Hope you liked the latest blog post. Let us know what do you think about this post in the comments section and if you find it helpful then we would be very happy if you can share it with your friends and on social networking sites Facebook, Twitter, StumbleUpon, etc.
Have a happy reading!