If you're getting ready to create a comfortable nursery room for your child, you might want to create a soothing atmosphere. You'll likely think about crucial and healthy elements that will build up both the child's intellect and physical health. Beware that children gather information mainly from what they see. Therefore, you'll need to craft functional elements, mind stimulators, and rewarding activities.
Implementing a baby nursery should be based on improving cognitive development. The decision can be challenging, especially with the process of putting together necessary elements for the child's nursery to keep it a fun place. Nevertheless, the investment is worth taking to put a smile on that child as they spend time in the room.
Here is a guide to help fill your child's nursery room.
The décor
Decorating the child's space with functional pieces of art, colour, and toys will play a significant role in improving the child's intellect. Opt for beautiful items that will make babies happy. Depending on age, choose the safe things that will help the baby to learn different activities. The flooring and wall options should be secure, secure enough to cushion the baby to learn basics like walking, sitting, or crawling. Besides going for the best style and taste, think about easy to clean supplies to avoid the overbearing laundry time.
Storages
Babies may require most items in their nursery room. You should have lots of storage to keep the toys, books, baby gear, playing costume, among other stuff. The storage options will entirely depend on the age of the child. For instance, you may need open bin storage for toddlers and later transition to simple shelves to keep various supplies when they get bigger. Label the storage compartments with easy to understand indicators to help children become organised. Besides using the storages to maximise the kid's nursery space, they'll also help the children to keep their supplies separately for easy access during playtime.
The Crib
Babies can sleep in the crib or bassinets for three years or more. Therefore, cots and bassinets should be an investment piece in the child's nursery room. Being the only great option for children to sleep comfortably and spend time alone, you should consider safety standards. Invest in a quality crib that will keep the baby safe, even when they start learning to climb out. Besides ensuring the crib style matches your taste, ensure that it's steady enough to support babies who learn to walk or stand on their own.
The Baby Beddings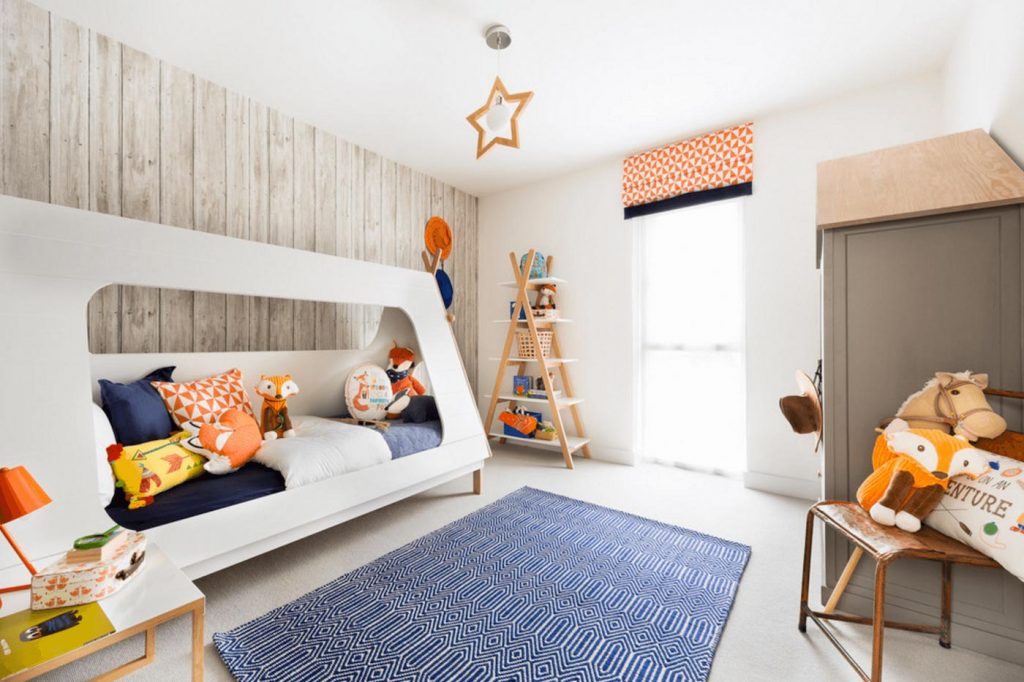 Besides selecting the right crib, be sure to choose the right and beautiful baby beddings that will add taste to the nursery room. Choose different styles to create an appealing theme and colour patterns that can keep the child happy. Be sure to choose the right fit and soft touch to avoid hurting the sensitive skin. Opt for decent styles, 100% cotton bedding supplies, and ensure there are plenty of spare sheets to avoid constant laundry.
Picture Boards
As mentioned earlier, children develop their intellectual skills from what they see around them. Therefore, you will need to choose optical tools that will facilitate the child's memory development. You can also have family photographs on the wall. Collate the picture boards in a unique pattern to show children an appealing and healthy perspective of the real world. Avoid pictures that are likely to scare away or stimulate nightmares and unhealthy interpretation.
Avoid Smart Gadgets
When designing a child's nursery room, be sure to keep comfortable one-to-one interaction with healthy baby products. Smart gadgets such as phones, TV screens, or tablets cannot provide a healthy child development environment. When there is a need to illustrate certain activities to the children, you'll have to spare time to play using funny toys and pictures instead of smart gadgets. Ensure you choose other baby supplies with bright colours, various textures, and illustrations that are child friendly to facilitate ample memory stimulation to the little ones.
The Changing Table
Designing a child's nursery may require the installation of a changing table in handy. Babies can have an unpleasant experience with dirty diapers. Therefore, a changing table is essential to prevent dirt accidents. The changing table should be within easy reach for easy disposal. Besides, be sure to invest in an option that has a life beyond the baby. You might want to repurpose the changing table to either a bookcase or toy storage in the future. Additionally, ensure the necessary additional essentials area attached to the changing table so that the baby has something to play with while they are getting cleaned up.
Avoid Clutter
While you work hard to keep the child's nursery fantastic, be sure to keep things organised and steady. Children will be at risk of hurting themselves if the room if fed up with scattered items. Be sure to eliminate less essential items if the room is small. You should Make use of functional storage units where babies can tuck things after playing. On the other hand, ensure the floor and wall texture can prevent sliding or chances of tripping over when the child is moving back and forth in the nursery room.
The Nursery Chair
You'll need a comfortable nursery chair to rock your baby. The chair should be roomy enough to fit you and the baby, especially when feeding or bonding. If the baby is old enough to sit, you should go for a soft fabric. A glider or rocking chair should be your best option because the movement will help to curdle the baby to sleep. Similarly, consider a chair with the right height to support your arms and keep both of you comfortable
Conclusion
Before designing your child's nursery room, ensure you install durable playmats among other acceptable kid's stuff and discover creative decors to get the apartment ready. It'd be best if you considered the strategies discussed in this article to facilitate proper child development. First-time parents can use child development specialists' help to provide helpful tips for creating a creative nursery room for kids.