Do you want to recreate a new world for your small child? If your answer is yes, opt for Disney princess bed canopy that will make her feel special and love. A bed canopy is always in rage and you can easily adapt the bed to include a 4 poster canopy that will stand right on top of the bed transforming into magical and exquisite experience.
While adults can opt for elegant Victorian style bedroom with canopy attached to the bed, for little girls stepping right into the Disney World brings peace to the bedroom.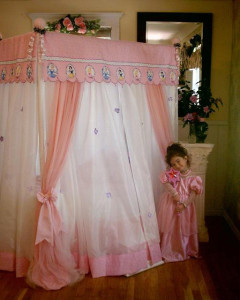 You can add an adorable wall decal or opt for some Disney decorated furniture and carpets or rugs or you can even have Disney bedroom in your home, one which your little princess strive for.
Princess Bed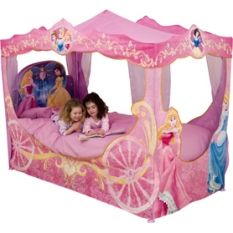 An adorable canopy bed set in silver tome with pink bedding is fit for your little princess. This bed is well crafted and made of wrought iron also you can add a sparkle silver finish on top for additional decor and softness, the bed really make you feel a coveted princess. This is good not only for small kids but also for teenagers who love Disney theme for the bedroom.
This princess bed with canopy has Cinderella style wheels perfectly fitted with Disney bedroom décor. The bed is fun to sleep in.
Pink Netting
A cute pink canopy netting on the bed not only protects you from the mosquitoes, but it also improves the bedroom decor and makes it look like coming straight from the Disney scene. It is very seducing and alluring.

Also, it can be easily mounted on the ceiling and it fits well into any regular sized or twin sized beds. It is very easy to hang and your little angel will love it.
Triple Ruffle Lace Bed Canopy
This canopy is perfect to decorate the Disney princess themed bedding. This bedding is pink and romantic and not to forget it looks too cute. The canopy is available in three colors, each with a different but related color like white, pink, raspberry.

It is easy to install from the ceiling, and the canopy fits practically any bed. Also, it is a great to keep the pesky mosquitoes away from your daughters face while sleeping.
Disney Princess Toddler Bed with canopy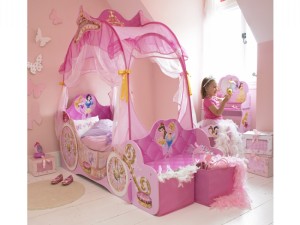 If you don't have a bed for your little angel, or you want to change it to the new Disney Princess bedroom theme, here is the entire bed set with canopy. It is a perfect bed built with close to the floor so its easy to get up or get in bed. There are two bed rails to keep the little darling safe in the bed. The actual canopy is made of polyester organza and it has cute ribbon on it for extra decoration effect. It is simply a perfect bed to get your little princess sleep.