White is a principal color of country homes, as it serves as the universal shade that binds all the earth and neutral tones together. White is also the color of peace and solace, thus it is perfect for country-inspired bedroom themes.
Designing a white country bedroom is easy. Your main investment would be on the covers and linens, and a few decorations, as you can settle with what you already have inside.
If you are planning to work on a white country theme on your bedroom, then here are some things to bring in:
1. Thick sheets.
Thick sheets are the focus of attention in every white country bedroom. The comforters should not only be white, but as well thick, as they provide comfort and the homely vibe inside the room. Make sure to use white tufted comforters, bed sheets with frills, and pillowcases to bring the bedroom to life.
2. Pearl-textured accents.
Meanwhile, if you want more class and texture in the bedroom, then better use pearl-colored accents. They are still white, but are rather shiny and come in transitional shades. Pearl accents are good on photo frames and other home decors inside the bedroom, and can be placed in areas where other colors are situated, such as in the walls and floors.
3. White flowers.
To add a more romantic vibe in the bedroom, better add flowers. Fresh white blooms are the best decors as they give a breath of freshness inside the room space.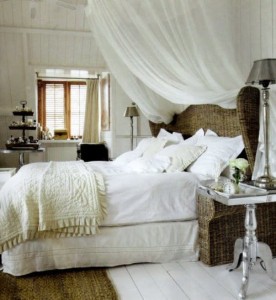 4. Neutral toned tips.
If you're recreating a country bedroom, make sure to use neutral shades for compliments, such as olive greens, browns and brass on the floors and furniture pieces. This way, the whites will stand out.