You don't need to spend huge money to create fun and wonderful baby room. All you need is to pull all the elements together. Here are some tips on how to create a baby room in budget: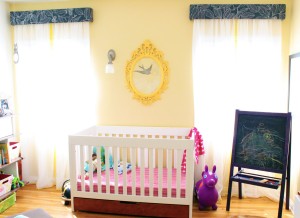 The first thing is to check the guidelines before buying nursery furniture.
Select furniture and furnishings that is good to use at every age. Planning ahead for the future really pays off. You need to buy once only once. Hence, invest in durable furniture.
Select colors that will easily coordinate with the ambiance.
Another way to save money is try to go for do it yourself projects. Paint furniture yourself, sew curtains and quilts, add wallpaper. One of the biggest step in decoration of these items is the labor, so the more you add, the more money you'll save in the pipeline.
Invest money in buying durable things or simply invest money in bed and chest or you can even borrow from the discount stores.
Select some baby theme that works in your favor. Pink or blue color looks great as an infant, but it may not last for longer time.
Use lots of baskets, drawers and shelves to store clothing and accessories for infants.
Increase the storage space by adding shelves and extra rods. You can buy the same in the thrift stores.
Instead of using wall paper for the whole room, paint walls and decorate with a border or stencil the design.