Selecting a colour scheme for your home can be a bit daunting task. All you need to do is to learn to blend colours and fabrics. Here are some tips on how to select colour scheme for home: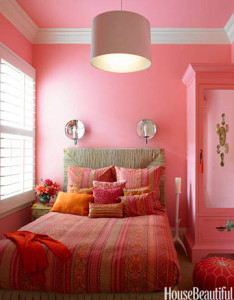 Firstly, select a style and add a theme for your room like English Garden, American country, etc.
By selecting theme and style in mind, now you need to decide on anchor fabric.
Try to pick neutral colour fabric for flooring and large piece of furniture. Upholstery can be done using anchor fabric or by coordinating fabrics.
For accessories, use bright colour accents like picture mats and decorative pillows.
Place anchor fabrics in the room- upholstery, curtains, pillows, etc.
For instance, you can use the anchor fabric with an American flag design- like for background use white colour, for flooring use navy blue colour, blue and white can be blended for sofa or furniture and bold red colour can be used for accessories or as accents.
Try coordinated printed like blue and white, white check can be easily used on chairs, curtains and pillows.
 Here are some tips that you need to remember:
Try to repeat the colour throughout the room.
Try to divide the colour scheme using blue and white pattern, white mini-check on chairs, curtains and pillows.