Designing a bathroom used by the parents or by adults and children require some differentiation. If this is the case, the best decoration approach is to be in casual in approach. Fussy draperies and delicate, glamorous accessories would look out of place here, but timeless materials and casually elegant touch can please the adults and kids, too. A washable/rayon shower curtain with look of ceramic tiles; raw silk, and washable paints would get the job done. If you are planning to design a bathroom just for kids, you can experiment. Brightly painted walls create a huge impact, and, even better, they are inexpensive to alter; the same goes with nonslip bath rugs. You can even add colorful bathroom accessories like toothbrush holders and other practical theme to enhance the theme.  To get that amusing one-of-a-kind touch, substitute vanity door and drawer pulls with ceramic ones to complement with the color scheme. If the bathroom is one that several kids will share, try to add privacy to the home, whether it is a semiclosed toilet or an opaque shower curtain. Separate storage is important in any bathroom, even it is just a single drawer or basket under the sink.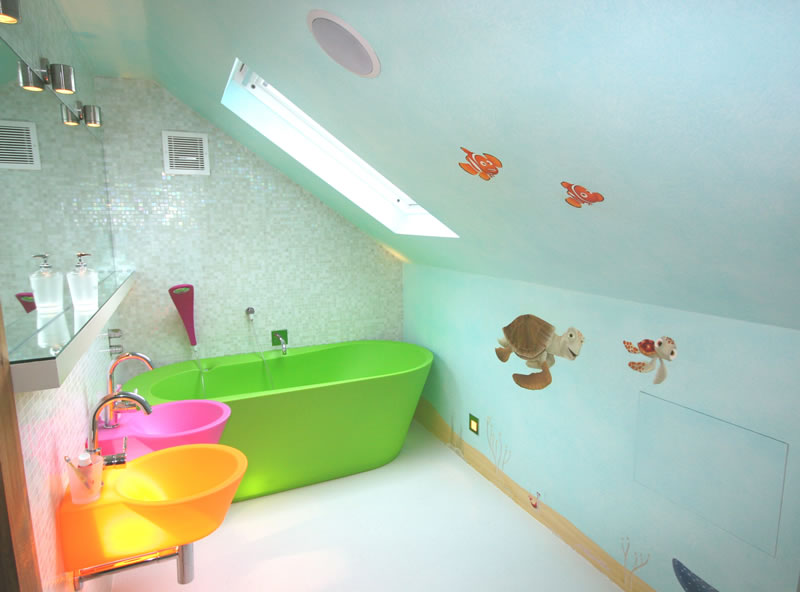 If safety of your kids is of primary concern, install anti-skid rugs. Just for kids, you need a sturdy, low step stools for little one to reach to the sink and rest their feet while doing toiler. You also need plastic accessories, toothbrush holders and drinking cups. Majority of the safety features, are appropriate for baths used by the adults and big kids. Rounded corners and edges, rugs, grab bars in shower bath are important. anti scald devices are important to prevent burns.
Today's families appreciate the value of universal design ideas like these that make a small-fry spa just as useful when Grandma arrives for the weekend. When it comes to the bathroom, safety is always in style. Get tips on both from the pages in this article.
Vibrant colors on a white background are a can't-miss way to liven up the bathroom, as you'll see in this idea.