Beach-inspired themes are common in living rooms and gardens, but they are seldom used in bedrooms. This is primarily because most beach themes are bright and lively, and only a few people get to fully appreciate their schemes.
However, there are many ways in which you can apply a beach theme to your own place of rest. By coming up with the right style, you may not only get to achieve the theme in its fullest sense, but more importantly enjoy your bedroom for a very long time.
Color schemes
When creating a coastal inspired theme in the bedroom, the first thing you may want to look at is the color schemes. What shades do you want to put inside the bedroom?
If you want a cool and relaxing vibe, then you may go for blues and sea greens. These colors are perfect in achieving the aquatic ambience, and at the same time they are very cool to the eyes. You can easily match these colors with whites and yellows, as well as some purple for accent.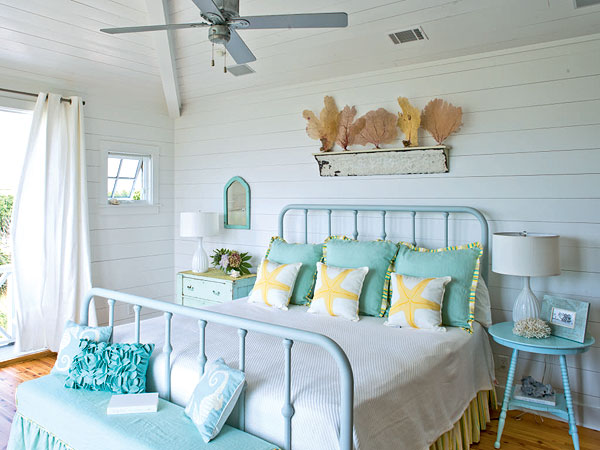 On the other hand, if you want to be more modern and contemporary, then you can go for deep blues and whites. It's not necessary for you to paint your walls blue-you may settle with white or light gray for the baselines, and go dark with the accents. You can also dedicate a certain part of the room for the blue shade, while the rest would be white.
Pastels are also great for beach themes. Light yellows and powder blues work together fine, as well as indigos, very light pastel pinks and greens. These schemes are ideal for girls' bedrooms, and as well as kids bedrooms as they are not too flashy to the eyes.
Furniture
If you are aspiring to achieve the beach theme for your bedroom, then you may want to see how bedrooms in actual beach homes look like. Well, beach bums are not really into cozying up in their beds; they prefer function over comfort.
With that said, you may want to get a single bed instead of a full king size bed. You can place the bed on one side of the room, just near the study and the closet. This way, you'll have more space to do your activities and store your beach items.
A bunk bed is also recommended for those who want a beach-inspired home. Bunk beds are space-savers, and are also used in beach homes.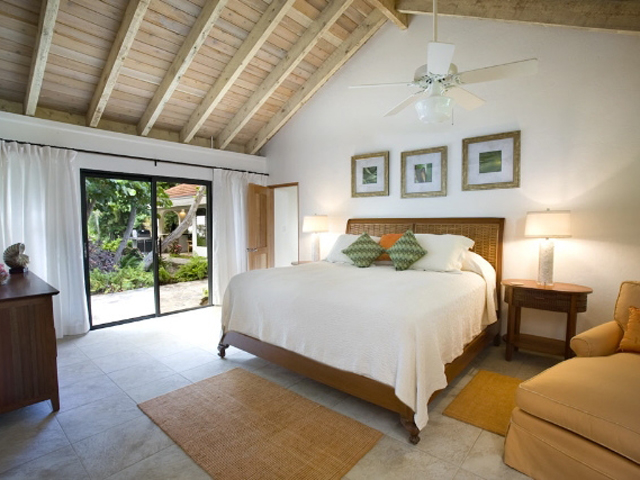 When working on the study area, you may want to get a small wooden table and chair, the kind that's not made of thick hardwood. The table may be placed on one side of the bedroom, and on the wall you can attach a hanging shelf to place books and other items.
Wooden furniture may also be used for closets or vanities, as long as they are not bulky and do not occupy much floor space.
Accents
As for the accents, you may start by adding a straw rug on the floor. Straw rugs add warmth but are not too thick as compared to other carpets and floor covers. They come in different colors-you may choose bright ones to give a pop of color to the room.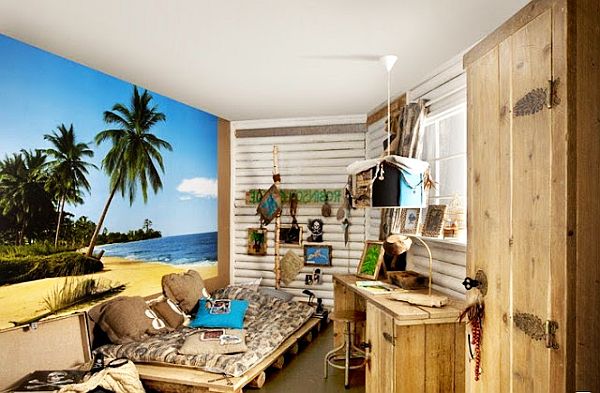 You may also want to use bright shades for pillow covers and curtains. It is important however to use lightweight fabrics, as beach themes are after a cool and calming experience, not a dark and dramatic atmosphere.
If you're not using an air conditioner, then you may install a ceiling fan in the bedroom. A ceiling fan provides better air circulation and keeps the room cool and breezy, just like in the beach shores.
Lastly, you can add other beach-inspired decors, such as figurines and centerpieces made of shell. You may also place indoor plants to achieve a tropical look, or an aquarium to keep you in touch with the waters.