Gone are the days when tiles are just mere materials for flooring or walls. Today, with the creative mind of artists and designers, they have become an art in itself. Mosaic tiles were at one time very trendy and almost all gardens and homes have one. But tile art is not only limited to mosaic, you can also fashion tiles into great décor or even a type of wall painting in your home.
This is the usual, traditional mosaic tile that you might often see. They are whimsical and often abstract. Bright and pastel colors are great to make a wall pop out and jazz up the ambient with funky beats.
Today, it's not only abstract that mosaic technique is used for. This tile art almost looked like a photograph. It is a great wall piece to a bedroom. It is dramatic and captivating at the same time. Put up the right amount of light and you will totally create a big hit!
This is a nice example that you can do for a bathroom. It has a very monochromatic look but the detail of that Greek woman is just simply breathtaking. You can line the entire bathroom wall with creative tiles and get this stunning look.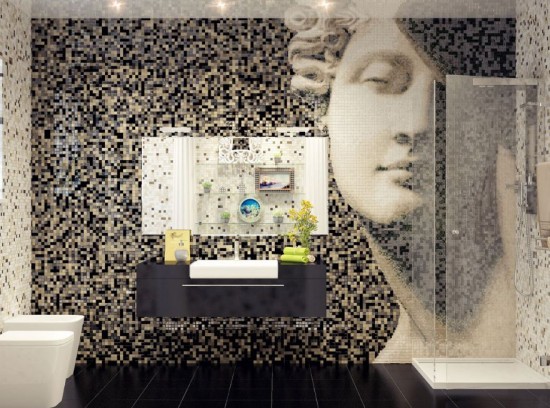 You can add a positive vibe to your living room with this tile art. Each tile is individually painted to create a very unique look. The pop of color against a quiet background is what makes this art piece really cool.

Tile art is also great for the poolside. It is common for people to have the bottom area of their pool lined with tile art rather than the usual white or blue tiles underneath. It is also a good idea to put the tile art right at the wall to give your pool that tropical vibe!