Vivid colors and home decor accents like these can really change the look and feel of any room.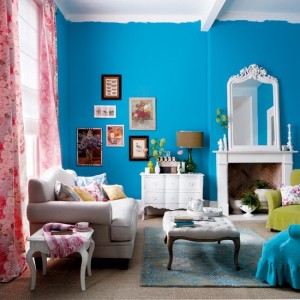 These are easy additions and can make a very bland room come to life.
 Walls
You can add a little zest around your home with bright artwork. It can be in form of paintings, posters or even art made by your little devils. Put them in frames on a wall. You can also do this with assistance of fabric, or put small brightly colored objects in shadow boxes and hang them.
 Paint is one of the cheapest option to add color to the room. You don't need to paint every wall in a bright color or try a feature wall. Alternatively, try to paint the bottom half or top half of the walls. You can also do fun things like add some empty frames on the walls and then paint the square of wall inside. Or try painting just the trim around the doors and windows. 
 Accessories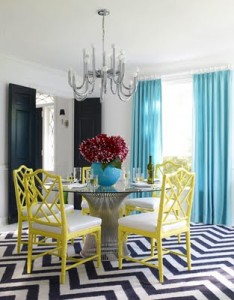 Whether it is a small vase, or a decorative box or a picture frame or even a bowl full of brightly colored fruit, little accessories can add joie de vivre to any dreary space. Try to hang a bright paper lantern in your dining room or kitchen.
Tableware
The sky is the limit, when it comes to the tableware. Dishes are available in several colors and in endless patterns. Don't forget to dress up a table with bright mats, napkins, and place cards.