The color palette comprises of several colors like red, yellow, orange, along with various other combination of these colors, also known as warm colors. These colors can perk up your adrenaline and breathing rate, raise blood pressure and increase body temperature, thus making you feel warmer. The intense the color is more is the warming effect.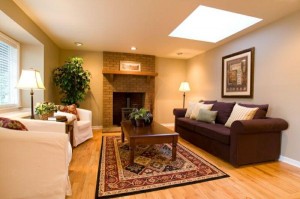 Tips on using warm color:
 Warm colors reminds of sunlight, heat and fire. Hence, warm colors adds personality to a space and they are perfect to add interest to dreary bedrooms.
Warm colors make appear large room cozy and intimate and it makes north facing room look appear warmer and brighter.
Since warm colors tend to be energizing, hence you may want to use a bold warm color in bedroom, dining area or other area where you want to avoid stimulation.
Warm color often work well with contemporary decorating style. If this is your style, then try to use muted tunes as dominant colors.
If the color scheme leans heavily towards warm colors, try to balance with the color palette with a single color or two. To make the best choices, select colors on the opposite ends of color. For instance, balance yellow with deep purple.
Though we often want to feel excited and energized in our homes, a bright color won't work well if you have subdued or introvert personality. If it describes you, go for cooler, and softer shade as your dominant color.
Neutral shades like white, black and gray works well with warm color scheme, and depending upon the undertones of the color, these colors can appear warm or cool.