Bedroom is an apt place for relaxation and comfort. A comfortable bed, combined with trendy cushions, and an attractive bedside dhurry laid interestingly on the floor and free flowing sheer curtains, lends a character and visual appeal to the home. Sometimes all these elements over a time period tend to become monotonous. Keeping a relaxed aura of the bedroom in mind, few changes can be made to add new dimension to the space. unusual ideas and out of box ideas can translate your bedroom into a fun space- a place where you can relax and retire, but feel enthusiastic about. In present times, many homes keep a separate workstation around the corner of the bedroom. It works well if you are working in the home. You can be motivated and productive in the home without becoming workaholic.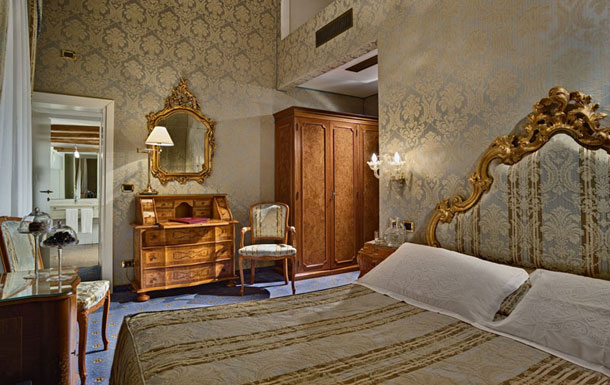 Having a canopy bed in the room can make your bedroom look vibrant and playful. The sheer and lacy nature of the canopy bed brings out the elements of happiness and bonding around the bed. With right hues and shades, you can bring up flirty look and interesting feel. Adding too much colors would make it look like a kid's room. So, it is good to use bright colors like purple, orange and leafy green with subtle tones- whether it is paint on the walls or on the furnishings. A bedspread with bold prints brings in vividness to the overall personality of the bedroom. Adding cushions to the bed of different shapes and sizes placed in a random manner catch attention. You can also buy cushion covers printed with different portraits will definitely add statement to the home.
Add chic look to the bedroom

You can make your bedroom look chic and bright at night by decorating it with the windows with a glow at dark curtain or even get ceiling painted with a solar system for a hint of drama. The bed can be placed on a height to provide room a tall ceiling. Steps or staircases can be illuminated with help of disco lights-it would definitely add fun element to the home. An illuminated wall panel that highlights the cartoon character could be a continuation to kids theme. Beds can be customized with assistance of skilled carpenter in the shape that your children desire. A ship or tent or ferry could actually become focus of attention. An artificial tree could be incorporated in the home.