A lot has been said about environmental sustainability in the last few months. Even people have debated the pros and cons of it, and the result is we all can embrace it in some or the other ways. Here are a few ways to do it without hitting your budget.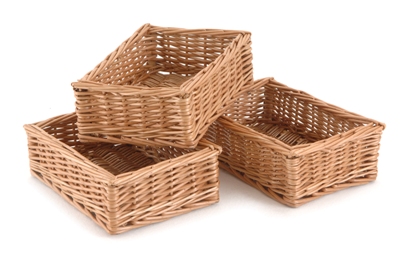 Contrary to popular opinion, we don't have to install solar panels to raise our voice of going green; a few steps like adding a wicker basket, creating a small garden, using magnetic planters, using ceramic ware, and using reusable items are some ways to do it. Let's dive into the details.
Add wicker baskets to your home
Storage plays an important role in an Indian home. Ditch the traditional plastic storage baskets and use wicker baskets with wrought iron handles. They are durable and handcrafted by expert artisans. This multipurpose basket can be used to store your sundry items, or you can use it as a casserole. The food will remain warm, and it is a hygienic way to store it and keep it fresh.  
Adding rattan furniture to your home can extend your love for wicker. These renewable materials will serve as a wonderful alternative to unsustainable materials.
Use items that you can reuse again
We are reducing our carbon footprint and preserving our nature by using reusable items. There are various reusable items that you can use to decorate the home, for example.
Tea light holders- Light up your space with tea light holders. They are the perfect way to spruce up the home décor for festive occasions. You can keep it in the forgotten nooks of the home. These holders are durable and are crafted in eye-catching colors to please the guests.
Faux flowers: Plucking flowers degrades the environment. Hence, we suggest you use faux flowers instead. It will add a festive flourish to your home and is one of the best ways to make it stylish. You can mix and match it with different color combinations of the home. You can place it on the coffee, dining, or console table. They last beyond festivity and add a pop of color to your abode. It is easily available in different stores.
Using a saree as a curtain: Ditch that traditional monochrome drapery, pick a saree from your wardrobe, and make it a curtain. It will defy the old norms and will make your home look stylish.
Magnetic planters
Reusable ceramic planters are great alternatives to potted plants or plastic. They are crafted by skilled craftsmen and add a touch of minimalism and contemporary style to the home. These magnetic planters can be stuck at the refrigerator's door or the home's entrance. 
It is a simple way to decorate the home and improve the style quotient.
Ceramic dinner set collection
Do you wish to upgrade your home décor? Ceramic dinner sets are certainly the best bet. They look beautiful, are non-toxic and lead-free, and are available in various price ranges. These dinner sets create a wholesome dining experience and will let your guest stylishly indulge in food. These good-looking dinner sets serve dual purposes- they create a wonderful décor space for formal dinner occasions and enhance the look of your kitchen. They are available in various designs and will improve your mood and invite a good appetite. It is practical, durable, easy to clean, and dishwasher and microwave friendly.
Other than dinner plates, we can also use ceramic platters, and jars to give your home a splendid look.
Create a small garden
Creating a small garden is the first step towards being organic. We all want to live healthily but don't know how to do it. You can create a small home garden to plant vegetables, fruits, or anything you desire. You can adorn your home garden with accessories like wind chimes or decorative flower pots.
Bamboo chair
Natural materials like bamboo have been a classic option for many years and have come back in several ways and forms. The material is known for its durability and aesthetic standpoint. You can create a pleasing ambiance in your home by using bamboo chairs. These chairs add a statement element to your home.
Use PVC shower curtain
A PVC bathroom curtain will do the trick if it has been a while since you updated your bathroom. These curtains are functional, decorative, and environment-friendly. The benefits of it are they are waterproof, affordable, and easy to maintain. They are long-lasting and provide privacy. These shower curtains will make your bathroom look clean and is an elegant addition to your home. You can buy different varieties of PVC shower curtains.
To conclude,
Being environment sustainable is not a luxury; rather, it is a choice that everyone can make and adhere to. If you have more ideas to go environmentally friendly, add them in the comment section.