We all have drifted apart in our relationships so much that now we can't connect. The harsh reality is that we have started taking each other for granted. Here in this post, we will provide tips on adding a romantic vibe to the home and setting the mood.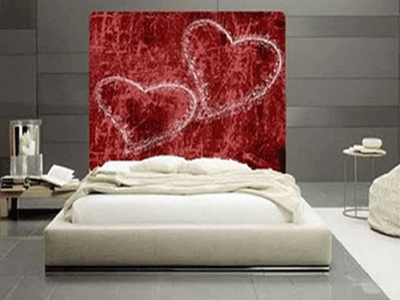 Let there be lights
Fancy lights enhance the mood and brighten up the home. You can bring fairy lights, tea light holders, or scented candles to do the magic. It will add a romantic vibe to the home and bring in the lost romance. You can opt for dim lighting arrangements to set the perfect mood for the evening.
Decorate the home from outside
Little surprises are the best way to show off your love, and what could be better than decorating your home from the outside? You can create a romantic vibe by re-doing the outside of the house. Bring a comfortable bench, buy a lounge chair or set the table for two to welcome your spouse. The bright candlelight dinner will help them to cherish the old memories.
Create a love nook for them
If you struggle to decorate the home or want to make it a low-key affair, create a love nook for them. There are many ideas on how to do that. You can create a special corner for your love by hanging together heart-shaped balloons, red pillows, and romantic pictures. It will improve the romantic vibe and make you feel high floating on the clouds.
Change the look of your balcony.
You will never run out of ideas when generating romantic vibes in the home. You can decorate the balcony with red pillows, fairy lights, a candlelight table, and a swing set. The outstanding backdrop of the starlit sky will act as a cherry on the cake.
Cook together
You can cook together if you and your partner savour similar tastes. You can hang romantic balloons in the kitchen or start with a nice cup of coffee in a heart-shaped ceramic cup. It will evoke feelings once again.
Dress up your home with houseplants
If your partner has a green side, decorate the home with houseplants. The indoor plants like bamboo, jasmine, orchids can be added to improve the romantic vibe of the home. Similarly, you can add other leafy plants, like fiddle leaves, bird of paradise, and rubber plants, to give your home an inviting feel. These plants will add a natural fragrance to the home and lend a dramatic makeover.
Special rugs
Voice out your love with heart-shaped rugs. These rugs will beautify your home and lend a romantic vibe. You can add colours if you don't want to go traditional with heart-shaped rugs. The rich multi-colour rug will spruce up the home décor and bring comfort while adding character and class to the space.
Add mirrors and lamps.
Mirrors create an illusion of space and make the atmosphere cosy and warm. It adds depth to the space and makes it feel big. You can add standing mirrors with vintage or heirloom frames to add a class or keep it as a centrepiece. This decorative addition will immediately uplift your home and change the entire look.
The wall-mounted romantic lamps or pendant lights are also a great way to enhance the home décor.
You can add artwork or photo frames reminding old memories
Artwork or photo frames add a romantic vibe because it is so personalized that everyone would relate to them. Through it, you can cherish the olden times and create a feeling of exclusivity. The uniqueness of artwork and photo frames is the best way to connect with your loved ones and will suit your space.
Romantic cushions
Brush up your home décor an inch ahead with display faux fur cushions. These cushions can become a focal point in the home if arranged correctly. It will grab the attention of your loved ones and will add character to your space while making them feel comfortable. You can choose from traditional red cushions, white cushions with hearts and other motifs embedded on them. You can add other options too in the home, like purple, maroon, and blue. It is the best way to connect with your loved ones.
Colorful chairs
The colorful chairs will make your home interior joyful and bring a smile to your loved ones. It is inviting and cosy.
Heart-shaped table clocks
To make your home look more interesting, you can add a romantic heart-shaped table clock on the desk. These clocks serve as a marvellous designer piece and will add personality. If your spouse loves minimal décor, add these clocks.
These are some subtle ideas on how to create a romantic vibe in the home and make your special one gasp in surprise. You can also let us know your ideas in the comment section.