A little girl would love magical butterfly theme. A butterfly bedroom theme is easy to create and possibility is endless. Its a perfect theme for a room to dream, to play and grow and it inspires your little creatures to imagine endlessly. The design of a room appeals to your child, as it is soothing and relaxing, filled with meadows, grass, soft colors, butterflies and whimsical objects. Although this is how we envision a butterfly to be, there are a lot of variations that can be created.
Before commencing a butterfly theme bedroom, it is highly important to select the bedding prior to accessories or colors that can even be incorporated later. There are a variety of ways in which you can incorporate butterfly themed bedroom like- you can add butterfly quilts, butterfly bedding set, comforters, etc. Most of the butterfly based bedroom is available in pale pink, yellow, purple or meadow green paint. Another bedding available is bright red, giant butterfly pillows and shams in butterfly print. Butterfly bedding is available in red, orange and yellow tones.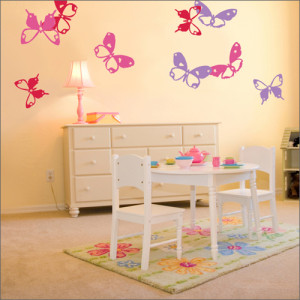 Once the bedding has been selected, its time to select a wall paint color. It is highly recommended to bring a pillow sham into the paint store when you are selecting the samples. It ensures that right color shade will be used. Once the wall is painted, a butterfly themed wall paper can also be incorporated. Other options include butterfly wall stencil, wall mural, hand painted garden scene with butterflies, flowers and a fence. For those who are not opting to paint, you can buy a stick on wall wood frame with shutter to create an illusion of window.
Creative Ideas
A picket fence complements the butterfly theme and helps to create a garden type room. There are several options that you can select like picket fence. You can even use real fence posts painted white, hand paint a picket fence on the wall or apply a pasted vinyl cut out of a fence. Silk vines and flowers can even be added. A trellis with soft arches can also be used to run the length of a wall. One of the most compelling butterfly theme had walls painted with a yellow color, where the yellow graduated in shade. Real fence posts painted with white and attached section to section by the wall. A rose color paint can also be applied on the wall. Faux painted grass, butterflies, ladybugs can be painted to add vivid look to the room.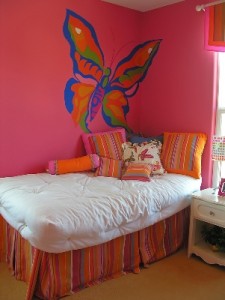 There are a wide range of butterfly and garden theme art work and prints available. What's more- its simple to create on your own. All you need to do is to cut down imaged from magazines, place them in frame on the wall or arrange in small groups on dressers. They can even be printed and framed. If you know Adobe Photoshop or a similar program, you can add your child name, adjust color or combine several images. Dragonflies, butterflies, flowers are great addition.