A bathroom that is worthy of spa can all be yours thanks to the lovely fixtures and themes that is available in the market. The hallmark of a luxury bathroom is the superlative architecture, plush fixtures and seamless designs. And of course, one can't forget plumbing that can make or mar the bathroom.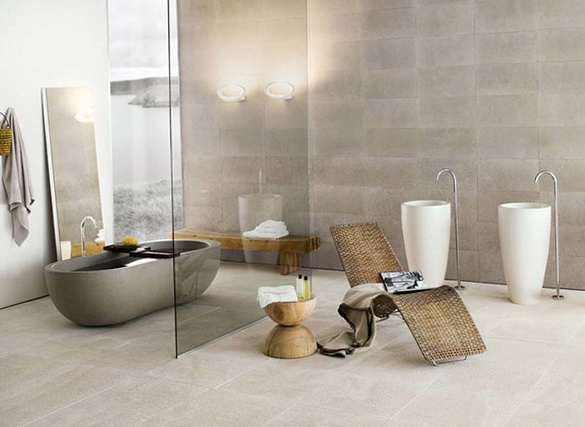 Transparent Glass Walls- The transparent glass walls make the bathroom accessible in more than one way. Along with the glass wall or window dividing the bathroom and the bedroom, shower comes in full view.
Automatic blinds on outside and inside the bathroom are recommended for privacy needs. Etched designs on the glass side offer privacy and dark, also it adds as an element of the design.
Apart from this theme, there are several other styles that can be added to make the bathroom the ultimate place to enjoy. One can easily create spa like ambience with stone and pebble accents. Greenery and the sunken tubs add more to bathroom ambience. An open air theme can be created with the right fixtures and location. Having the bathroom look similar to green courtyard will turn it into an oasis.
A large variety of wall tiles accentuate the bathroom really well. Most of them have their own designs and separate shower panels. The neat trick is to use the same tiles for wall and floor to give an extra ordinary look to the space.
Television and radio system is still in trend. So, you can add it to accentuate the bathroom.