Summer is back. Is your backyard or outdoor space ready to entertain you, your friends, and your family? No matter how ample your outdoor space is, you will always want it to look perfect so you can enjoy your time out there with some fresh air and a refreshing vibe. Since our outdoor spaces are an extension of our interior, you should consider adding garden composite decking and other pieces of décor or plants for perfection. There are just a few things that can convert even a crappy backyard into a tranquil retreat after a typically hectic day. Here are some tips that will surely aid to the transformation process of your outdoor space into that relaxing oasis you dream of:
Add Plants:
An outdoor space is incomplete without plants. You don't have to turn it into a garden necessarily but can bring a refreshing vibe to it by adding a few plants. Green spaces aren't just soothing for the eyes, but they are also healthy. A green outdoor space will help your mind and body to relax.
Add Water Elements:
A splash of water in the summer feels like heaven. Even a tiny waterfall can give you a sense of coolness. Wet elements add fun and are a source of excitement for the family. A fountain and sprinkle system can make your space look like a natural oasis. Your outdoors can turn into an ultimate stay-cation spot.
Create a Living Space:
Having a designated living space in your home's outdoor space is vital to make it perfect for spending your time out there. You have a lot of options when it comes to outdoor seating arrangements. You can add couches, coffee tables, dining tables, or you can even make a kitchen counter for a mini outdoor kitchen where you can party with your friends and family.
Add Shade to Your Outdoor Space: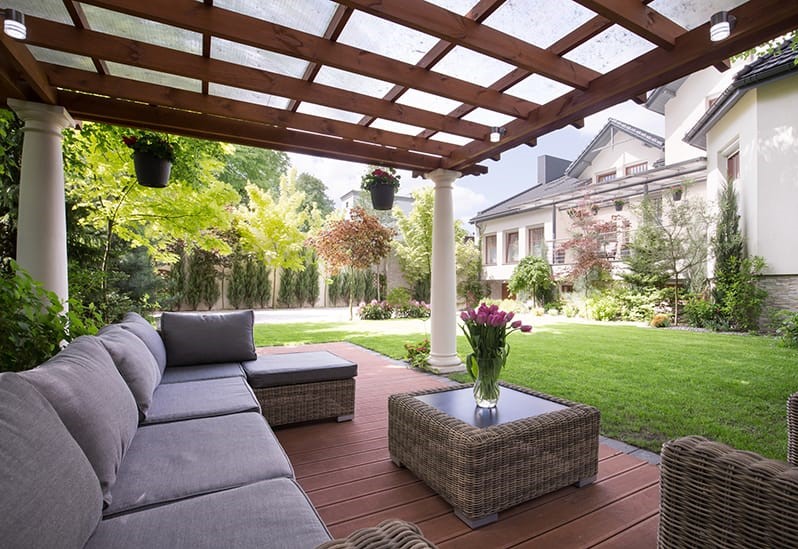 Your outdoor space does not necessarily have to be open. There should be a shaded corner. The shady corner can be made using bamboo, tree's or hedges, or you add a parasol or pergola to give a boho-chic vibe to your place. The shaded area can be converted into an outdoor kitchen with a serving place for your guests.
Light Up Space:
You can turn your outdoor space into a magical and romantic place by adding ample outdoor lighting. One or two lights won't cut it when transforming your outdoor space; instead, a combination of outdoor lighting options will really light the area up, adding ambiance. Twinkle lights coupled with wall-mounted dimmable lights will light up the entire space.
Decorate Your Outdoor Space:
Turn your deck into a dreamy sitting area. You can add rugs, lights, decorative pillows, lawn ornaments, and other decor items that can completely change the appearance of your outdoor space. Covering your deck with tropical flowers and vines will bring the entire area to life. Your style should be seen through each of the decor or furniture items.
Conclusion:
Investing in redoing your outdoor space is always a great idea. The more you are thinking about it, the more you will be able to enjoy a well-decorated and fully equipped room.