Thanks to inflation and lack f solid real estate policies, real estate prices have gone high and space have gone at a steep for middle class families. Fortunately, having to create a home out of a small living area doesn't necessarily mean to give up on comfort. Space saving furniture offers enough of options to be able to enjoy more with less. The benefits accrued are uncountable. Aside from taking less space, most space saving furniture doubles up into a larger unit to perform other function. For example, the casual futon is fast gaining acceptance in urban homes nowadays. Simple flat strips of wood that are seasoned into a casual couch to two seats can be opened up into a bed when unwanted guests come to stay at night. A simple extendable action converts something to sit and something to sleep comfortably. Buy a blanket and few pillows and you will surely have good night sleep with no additional expense. It makes good sense in a small room without having to fill up a room with large cot to perform the similar role. Another benefit of space saving furniture is they are easy to store and are portable. This would be particularly important when you live in home with short term leases and temporary homes. Little units like a collapsible study tables or wooden shelves allow you to carry things with ease and without any discomfort. Some units can be easily packaged into boxes on wheels for additional space freedom.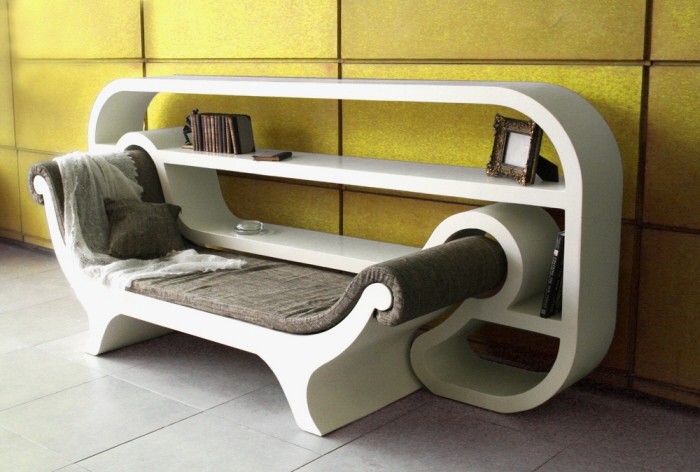 Benefits of space saving furniture
Well crafted space saving furniture can be turned into useful storage areas. This would be of interest to professionals living in a studio apartment or working couples, who have just shifted to new areas. There are endless options available in case of pull out storage spaces at the foot of cots, cabinets, and divans. A pull out drawer in an entertainment cabinet that hits you at that moment can be neatly turned into a shoe rack or a magazine and newspaper stand. Sometimes, we tend to accumulate things over the years and storage spaces helps us in keeping our home neat and tidy. While selecting your cupboards and cabinets, opt for adjustable racks that would ensure neatly storage of objects of various shapes and sizes.
Hope you liked the latest blog post. Let us know what do you think about this post in the comments section and if you find it helpful then we would be very happy if you can share it with your friends and on social networking sites Facebook, Twitter, StumbleUpon, etc.
Have a happy reading!