Struggling to find work life balance? Well, the best solution is work from home. Yes! As an increasing number of professionals are venturing in a variety of fields and many of them prefer to work from home. Home office is the best solution. After all, not all start ups can afford right from the beginning.  According to Ansal Punj, owner of reputed interior décor store Casa Paradox Bestseller & Casa POP says that there is a surge in entrepreneurs who like to work from home. While the bed and sofa may be comfortable, but they are not conducive enough to promote same kind of productivity as these places are associated with leisure says Kaizad Dinshawm, the creative head and founder of interior décor firm Nitido Design. It is necessary to have a designated place for everything-as it allows you to be productive on daily basis and it provides focus and discipline, says Ansal Punj. In this post, we have provided few suggestions on how to create funky yet functional home office.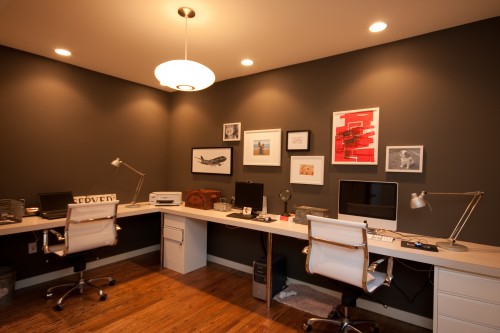 Read these tips to learn more:
Remain functional-the first and foremost stepping stone for successfully crafting home office is to find a suitable space that does not have multiple uses, says Dinshaw. Punj further says that it is better to select a room with minimum distractions. Functionality is the key element. Make sure there is enough space for storage and a comfortable and aesthetically designed seating arrangement.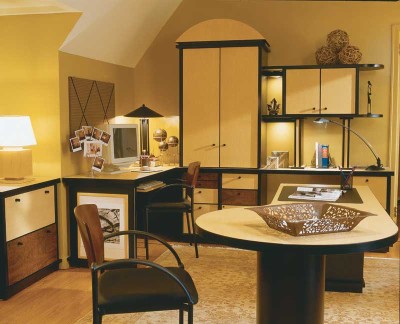 Tip 2- select a comfortable furniture-select a wide, comfortable desk and chair as you will spend a lot of time there. Keep the space clutter free and ensure all the surrounding items relate to work only and not to your personal life or leisure. Have all your work related items easily accessible to minimize distractions and trip outside the space.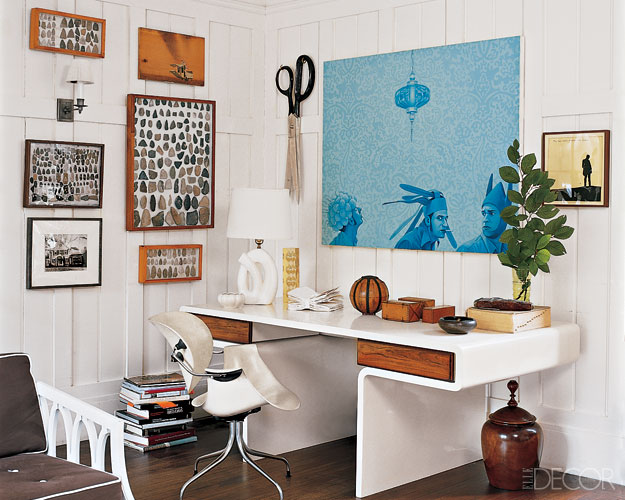 Tip 3- Mix and match-follow the new mantra
Rohit Gupta, reputed owner of lifestyle store Elementto says that the interior décor of the space depends upon the profession that you are into. Simple and solid subtle prints always work when the nature of work is serious. Those working for a creative field should go for lively home office decoration and funky ambiance. Punj further comments that instead of spending a lot of money on home décor, simply repurpose what is available. An existing armoire can be repurposed or can be used as a fold out desk, concealed shelving and can be added to a blank wall for storage and sliding doors can be used to disguise the work space when it is not used. To lend character to the space, it is better to add wall art, wall hangings, framed photographs, decorative area rugs, coffee table accessories or even a fresh paint job.
Tip 4- use multipurpose furniture–alternatively, you can use custom built multi functional furniture that looks elegant and doesn't occupy much space.
Tip 5- try to keep everything small–if it is difficult to convert a small area into your office accessorizes it smartly. Try to keep your home office desk clutter free.  Cordon off one or both sides of the desk from the adjacent places of furniture to create a small cubicle, says Dinshaw. Use a corner space or any small cubicle in house to create compact office space- use traditional boxes to store paperwork or important documents. Gupta further comments that select desks that have plenty of storage space. Punj adds vertical storage space works.
Tip 6-Space no constraint-When space is not a big constraint, its easy to go all-out. Gupta further says that pack ample storage space of the room in form of s couch.  Since you have a lot of storage space have a free reign home interiors, let your tastes and preferences pass through- if you would like to make your home office stand out, go for bold prints. If you wish to keep the area from cramping your style, focus on blending it. Try to keep colour palette neutral, as it will allow you to add all utilitarian items to home, says Punj.
An ultimate home office checklist- must have accessories
An ergonomic chair is must
Organizers and files to classify items
Colorful stationery items
A daily planner is must
Wi-fi speed for internet connectivity
A visiting card holder
Multi-functional printer
A vision board
Framed inspirational quotes
Accessible electrical points to charge your mobile and laptop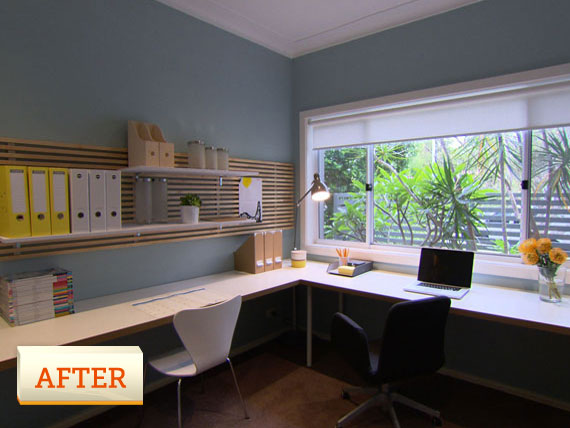 Conclusion
Its easy to keep your home office in style and in contemporary fashion, all you need is a little bit of leg work and extensive research.  A home office is not easy to maintain, but with above-mentioned tips it would be easy. The best way to keep your home office stylish and in order is to keep it clutter free and categorize the items. Another tip is to keep all your personal belongings and personal items at a distance.
Moreover, a designated workspace allows you to remain productive on daily baiss and provides you with right kind of discipline and focus. Lastly, if space is not a constraint, add a couch to office area for those mid-work mini breaks.  Bold colour and prints work!
Hope you liked the latest blog post. Let us know what do you think about this post in the comments section and if you find it helpful then we would be very happy if you can share it with your friends and on social networking sites Facebook, Twitter, StumbleUpon, etc.
Have a happy reading!