Ganesh Chaturthi is one of the significant festivals celebrated with great fervor and enthusiasm amongst the Hindus. The occasion marks birth of Lord Ganesha and is mainly celebrated in the regions of Maharashtra, Karnataka, Goa and Andhra Pradesh. During this auspicious occasion the people clean their homes and decorate it with fresh flowers, rangoli, paper lanterns, lights, etc. For placing Ganpati, special Makhar are made and decorated.

The festival is also known by the name of Vinayaka Chaturthi or Vinayaka Chavithi and is celebrated in the month of Bhaadrapada ( August to September). It is 10 days festival that starts from shuklachaturthi and Anantchaturdashi. People bring fully decorated Ganesh idols at the home on the day of festival and is placed on raised platform to view and pay respect to Lord Ganesha. Offerings like Ladoo are given as parasad.
In this article, we offer you tips on how to decorate your home for this festive occasion: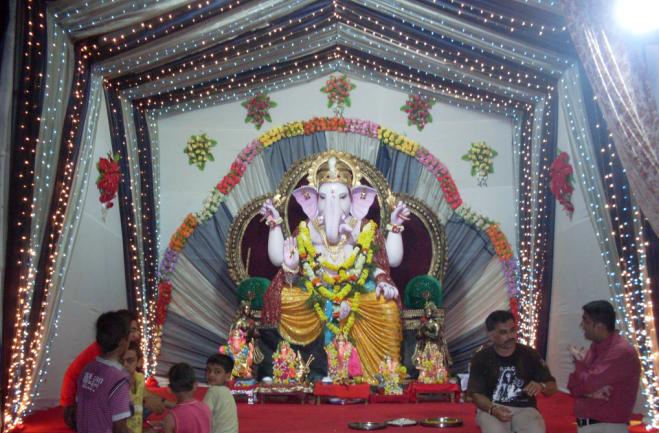 Home Decoration Tips
Here's a list of some home decorating ideas for Ganesh Chaturthi, especially meant for your Puja room. So, welcome Ganpati once again in your home with same fervour and passion.
Where to place the idol– Place the idol of Ganpati at the right place. The north east corner of the home is related to prosperity and happiness, so it is best to keep the idol there or at a place which is calm and clean.
Clean the home or a place regularly where you want to place idol of Ganesha and sprinkle ganga water to it to attain the sense of purity. A raised platform is needed to put the idol and decorate the place well. You can buy readymade decorated temple like structure from the market.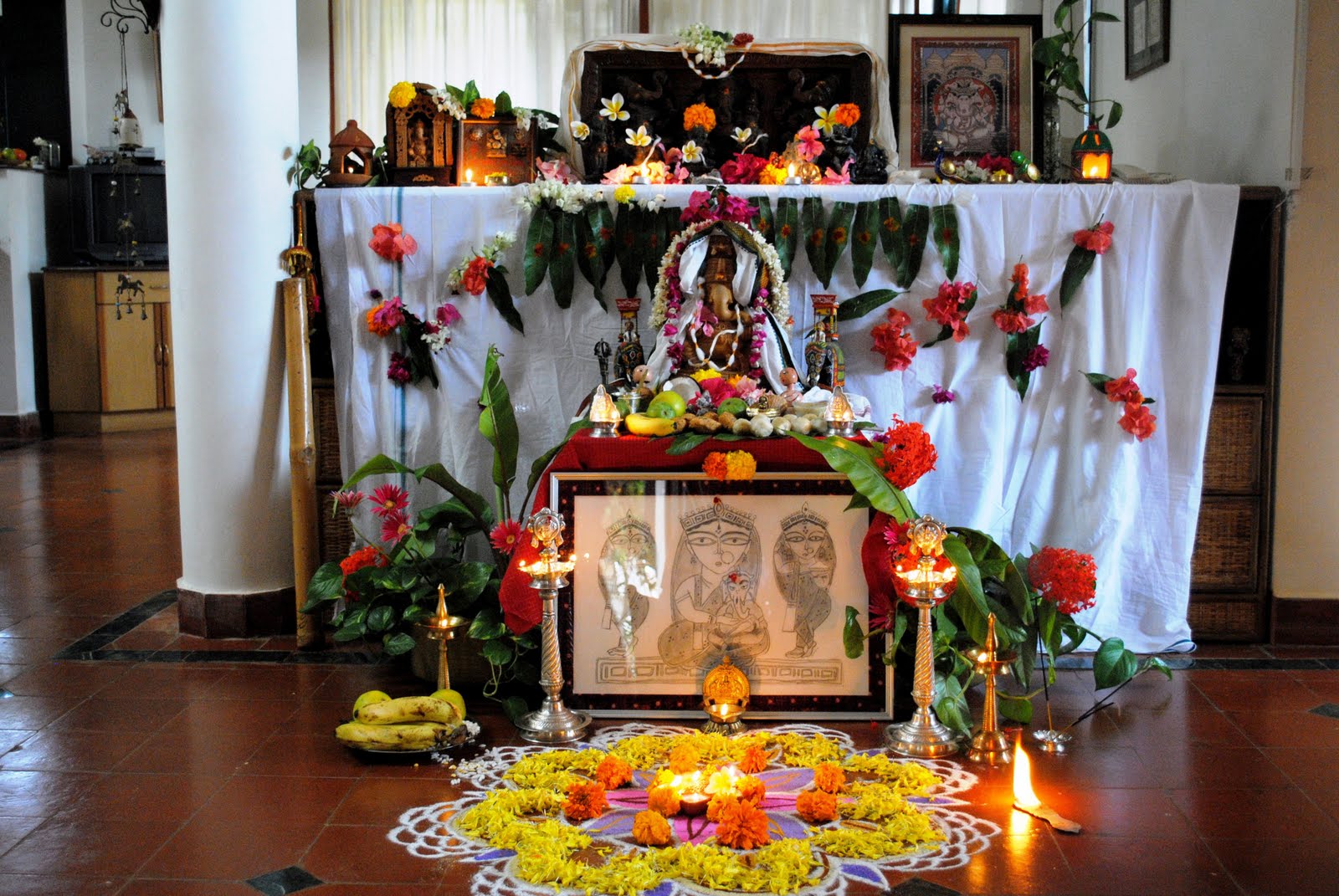 Walls– Decorate the walls of Puja room with beautiful and bold colours that catches the attention at once. Bright Colours like yellow, green, red are the best for ganpati wall decoration. Decorate the walls with bright curtains and balloons. Use a decorative saree and dupattas to make curtains of your puja room walls.
How to create mandap-You can use your own creativity to create beautiful temple or maker at home. If you are not capable of doing it yourself, take help from interior designer or professional. You can select from various shapes like butterfly, rat, book and so to create a distinct mandap.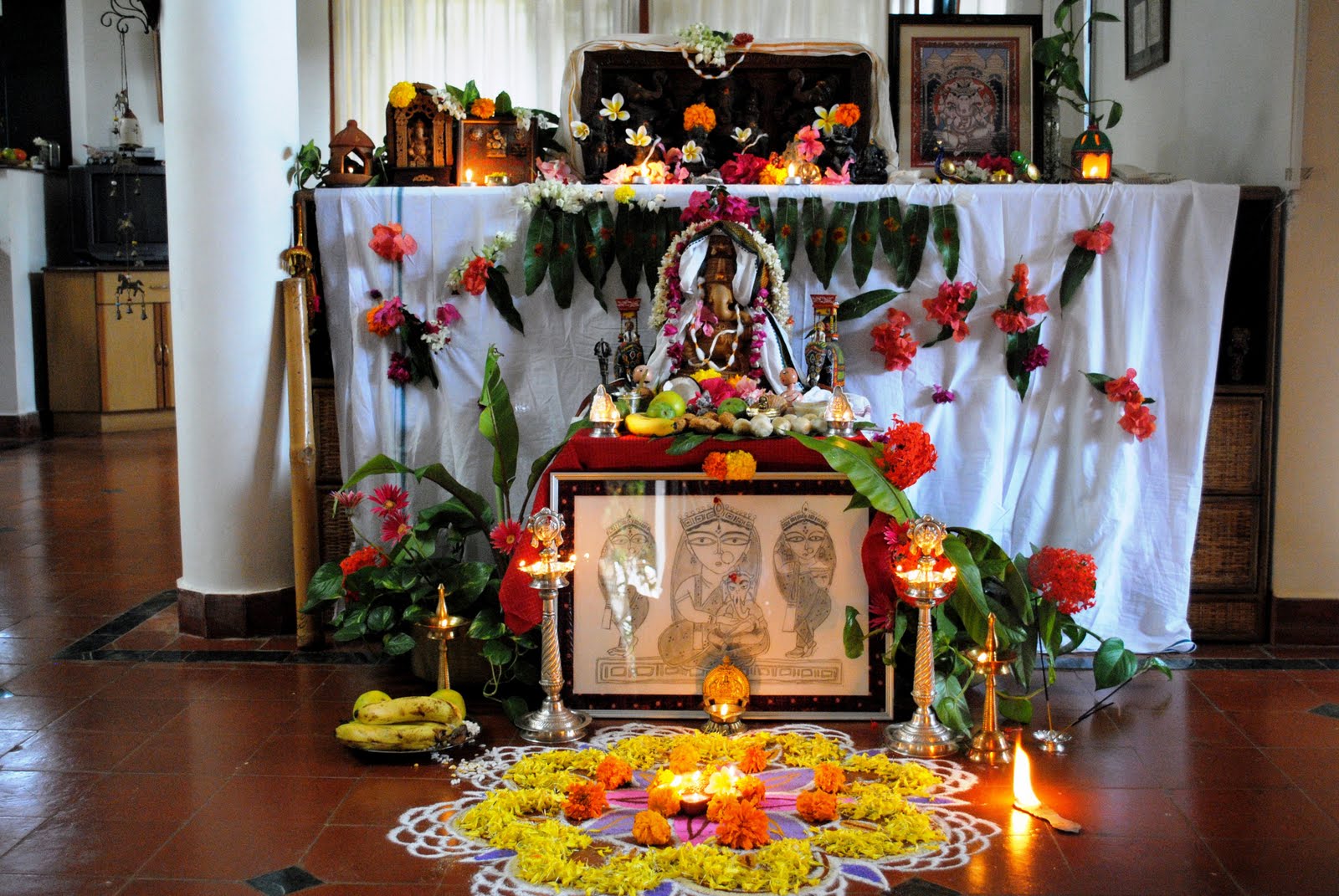 How to beautify the home- Hang beautiful garlands to the entrance, add bells and door hangings to the ceiling to give your home or place a beautiful and complete look.
How to decorate the entrance of the room– Make rangoli at the entrance of the room or in front of the shrine. Decorate the temple with natural and beautiful flowers to give it a festive look. Once you are done with the decorations of the home place idol of Ganesha along with kalash on the makar.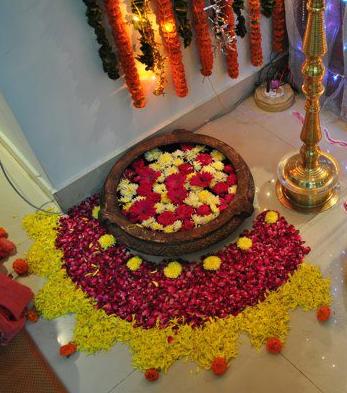 Don't forget to lighten the incense sticks to create a spiritual and pure ambiance.