Purple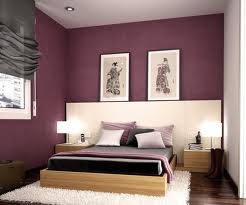 Purple is the color of choice and it indicates meditation and relaxation. It is a versatile color and offers soothing feeling for different moods, depending upon whether you select bright tone or lighter shade. Colors like purple or lavender add sweetness and freshness to the room, while darker colors like brinijal purple add elegant side to the room.
How to use the color
To add glamorous look to the room, go for gray and black tone along with metal button.  To make the room look feminine, blend purple with other light colors like white or ivory.
Pink
Contrary to popular wisdom, Pink is not a color for girls. You can select multiple variants from pink eggshells, like fuchsia on one side of the wall. It will add warmth to the room, without giving feminine look.
How to use the color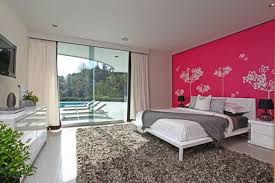 For sophisticated and elegant room, associate pink with metallic materials. For instance, golden suspended lights or even silver picture frames. If you love romantic decoration select furniture in light colors and add some peach touch to the decoration.
Neutral Décor
Those who are not adventurous enough for their bedroom can always take support of neutral colors. You'll be rarely disappointed with the neutral colors. Starting from beige to grey to all shades of white, options are endless and will give you happiness. Neutral colors will add bright and relaxed look to the room.
How to use the color
It depends totally on you. In case you want to create neutral sanctuary without adding tones of bright color, ensure that you select different shades of similar palette to avoid dull atmosphere.