Do you want to create a Lego bedroom for your small devils? Well, they'll just adore this idea. If you are planning to design a Lego themed bedroom, here are some quick and easy ideas to kickstart yourself. There are innumerable things that you can add to make your bedroom Lego themed like wall decals, lights, duvet, lamps, you can do a host of things. . Here are some ideas to re-design the bedroom. Here are some tips to make your bedroom Lego bedroom:
Well, walls is the best place to begin. Add a poster or graphic to create a focal point and even you can set the color scheme.
Second idea, is to add lots of storage. After all, kids need abundant place to store their bricks.
Thirdly, add a Lego headboard or purchase some cool sheets, comforter and pillowcases.
Last but not least; add a lot of Lego accessories like wall lighting, clocks, calendars, and photo frames. Today, the list is endless. There are a wide array of options to chose from.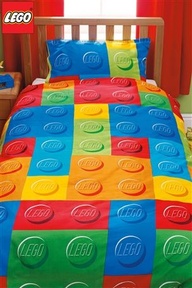 Jumpstart with wall poster. There are innumerable wall poster that you can chose from. A lego wall graphics is a perfect way to personalize kids rooms and rented apartments. These prints are of superior quality and won't damage your walls. Even you can customize these wall paper according to your need s and specification. What's more! They are easy to install, peel and stick, requires no glues and nails. Anyone can do the same. Imagine how bright and happy your kids will be!