Are you daunted when it comes to reorganizing the space and don't know from where to start? Here we have mentioned step by step guide on how to decorate the home or workspace. While hiring a good interior designed can accomplish the job, but knowing the aesthetics and design will give you a head start  on how to do task fully well.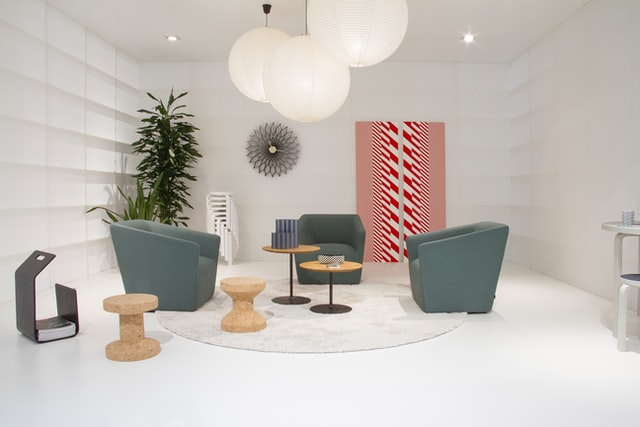 Less is more
As cities have become crowded and space have become a prized possession,  less is more is the mantra to decorate the home. The space should be used optimally utilized and not merely for functional purpose- ideal positioning of furniture is of paramount importance. Good space planning will make your area look best and give it a renewed look.
Add sunshine to your home
The simplest way to change the décor of the home is to optimally use the natural light with the help of ventilation. Natural light fills up the space and adds to the positive vibe and makes the home look bigger. It will lower down your energy bills substantially.
Bring colors and shade to the home
Colors give false illusion of space and warmth, you can select them based on what do you wish to splash on the walls. While the shades of white and blush pink make the space look larger than what it is.  Conversely, if there is no sunshine, dark pastel shades gives sense of warmth and intimacy. Create a soothing feeling, by opting for pastel shades as they are easy to merge and goes well with the different design settings.
Keep multi-functional items at home
The pandemic has created the need for multifunctional territory. It has given rise to multi-functional bedrooms, living rooms and even dining rooms that act as a workspace too. Multiple use of rooms have become a new norm and you can also start doing it.
Make your home future ready
Technology has made its way to our lives. A smart home is necessary to make you look smarter. Even though technology has reached new advancement levels,  its introduction to our homes has come a petty late. A smart home involves use of appliances and gadgets, music lights and television, curtains, etc. This has become a rage in 2022 and the world is moving towards artificial intelligence and you can easily make your tech oriented by
Smart faucets- smart faucets can be commonly seen in the hotels, airports and now they have made their way into your home. Every modern home is equipped with it.  They have embedded features like temperature gauges, efficiency sensor that keep the water consumption level in check and since the valves need not to be touched. It remains contamination free.
Wireless sensors to open the doors
The high tech devices are used to monitor the movement of strangers to doors and windows. It can prove to be a perfect security point for home and offices. This cost effective home security system alert us from intruders and other suspicious activities. You can easily sync it with your smartphone and manage it with the app.
Use smart air purifiers
The increasing level of pollution in our city has made air purifier a must have home accessory. The good air-purifiers cut down your electricity bill and reduce the coughing, sneezing, headaches and other symptoms caused by pollutants. These purifiers filter the apr and remove the toxins, especially which have a significant effect on the health.
Use smart locks
Smart locks come with key and without key, allowing the bolt to work in both ways. This new technology protects you from burglary and other theft.
Use smart lighting
Today, the customers are ditching traditional lighting arrangements and are opting for smart lighting arrangements. They prefer dimming, colour change and mood change lights. Alexa and Google Home are using internet technology to create such products.
Add texture to the home
Similar like colors make the space look warm or cool, the texture adds weight to the space. It is the perfect way to add depth to the home.
Create an eco-friendly enviornment in your home
Start small by adding eco-friendly items in your home. While plants may be the obvious choice, but you can reinvent the home space by replacing plastic items with ceramic items. The ceramic spice jars, spoon holders, plate sets, veg bowl sets, accentuate the kitchen's look and highlight it, apart from it you can add wicker baskets in your home and make use of rattan furniture or cane.
These are the simplest way to reorganize your home. You can also add more of them by enlisting in the comment section below.