This look is inspired by the living rooms of Gondal's many palaces run by Mahrani Kumud Kumari. Traditional Gujarati furniture is ornately carved and lends your room a royal look that is both powerful and ornamental. Here's how you can do it in your home: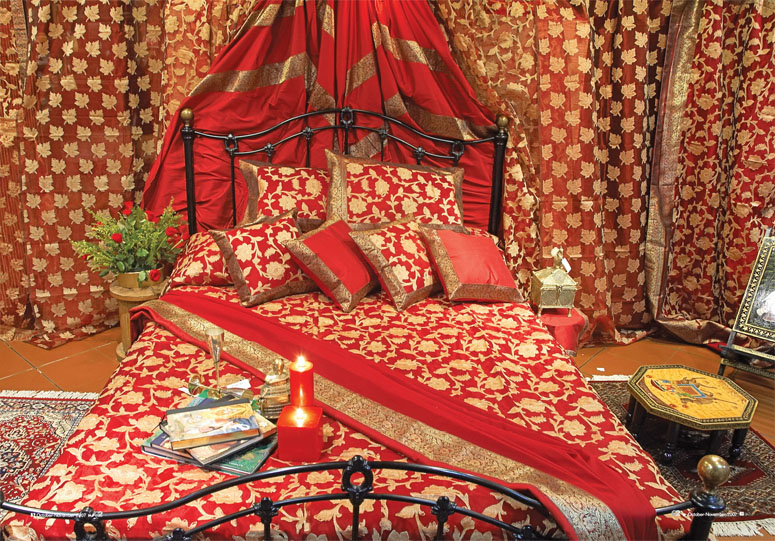 Low seating is the distinguished mark of these traditionally   furnished drawing rooms/
Hence, delineate your space to have more than one seating needs. In one portion, select a scattering of carved yet light furniture with round or oval backrests.
On the other side, create a space for floor seating with a comfortable mattress and over-sized oval shaped bolsters that looks best in thick white or cream cotton.
Complete your room with a massive carved chest or cabinet with door knobs.
Mount photographs on the wall with carved wooden photo frames.
For a contemporary torch, mount glass shelves on carved wooden brackets on the walls.
How to create exotic entrance?
The entrance to your home is usually the place where you burst through the door, throw your handbag, fling your keys and kick off your shoes. It is also a place that transforms the guests on special occasions.  To the homes, a nice entrance is significant and it signifies that the owners have lived there a while.  M ost of the times it is the most neglected part of the home. That's the problem why in palaces built centuries ago and lived in by the same families for 200 years or more. Here you are greeted with a royal look.
How to create South Indian style home
It is inspired by gleaming black and white floors of the Tranvacore family's Kowdiar Palace in Trivandrum and the endless courtyards of Raja Annamalai Chettiar's Palace in Chettinad, south Indian concepts are longer bound by geography.
Pick up a few pieces of Chettinad furniture, like a bench or a swing and use it to accessories to your living space. Keep plenty of floor space around it.
Place a trunk in the centre of the room like a coffee table or better, open it up against a wall to display the hidden mirrors. Look for the unique pieces that can be used and displayed at the same time.
Procure a couple of original paintings which have religious themes. Hang them all on a single wall or choose one beautifully framed painting for a stand alone look.