A one bathroom house with a number of guests is the most difficult situation to handle.  Here we have provided simple ways on how to make guest bathroom ready in minutes.
Declutter
Through this way even a small bathroom will look big and cleaner in the minute. Remove the kids bath time toys, scales and everything else that is not necessary to bathroom. Set up your own personal makeup station in the bedroom to free up the space in the bathroom.
Extra Hanging Space
Find out ways to create extra hanging space in the bathroom. Add hooks on the back of the dor to hang clothes or a vinyl shoe bag. Consider adding shower curtain tension rod about 6 inches outside of the shower curtain or outside the shower door. It will create a hanging space that can hold damp towels, wash cloths, or add a hanging shower caddy bucket that can hold a variety of toiletteries.
Under Sink Storage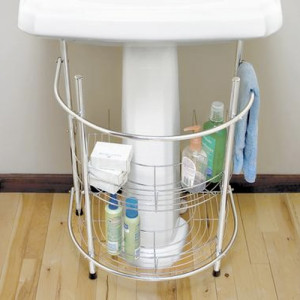 If the bathroom sink has a cabinet underneath, use the space efficently for storage of personal grooming items. Add adhesive backed hooks on the inside of the cabinet doors for hanging storage and place for three tiered vegetable bin inside the cabinet. It will increase the amount of items that can be hidden under the sink.