Dining Rooms are available both in traditional and in formal style. Commencing from grandiose elegance to minimalistic to retro retreats these dining rooms are available in different types. But there are few rules that you need to follow: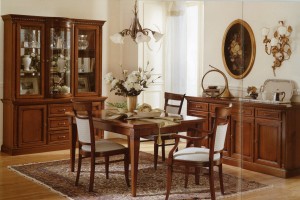 Layout- If you have large living space, then you can incorporate a dining room. These dining room are open and closely linked to the kitchen.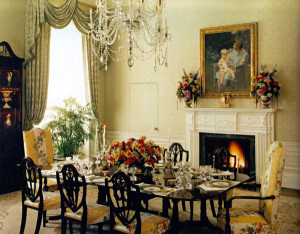 For instance, a round table is the best way to conduct informal dinner as there is no separate head. But if you seat more than 6 people, it is better to avoid large circles as it will take more space and its bit difficult to talk across the table.
Square Table works best for 4 people. But one can extend square table to rectangle table for placing large number of people.
Whatever shape you select, you need to ensure that there is enough space to pull chairs out and move it comfortably.
If space is too limited, try to opt for a corner table or a small table that fits into a recess or window.
Gate Leg Tables are too useful if you want to create bar like environment or counter top at right angles to the walls that can easily fold away.
Remember, when it comes to surface use glass topped table. It will enhance the space.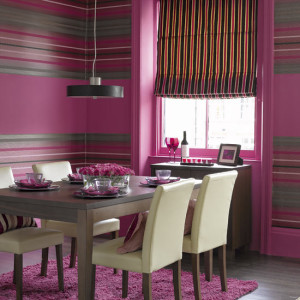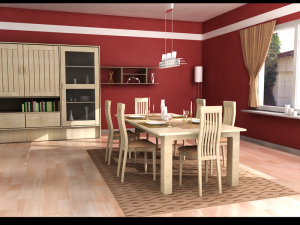 Also, wood also need to look after and you need to search out for ways on how to maintain aesthetic appearance and how to protect the same from heat.
Open Plan- In case of an open plan area, you need to think about how to use it in an optimum way and how to divide the space for different function. As per the lifestyle trends, go for open plan living and it is in vogue. Its basically a lifestyle choice that sets you apart from the crowd.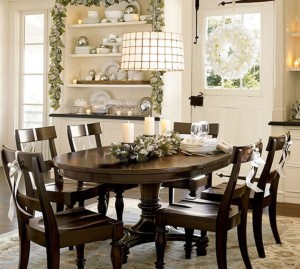 If done in right fashion, it can be exciting, sociable and rewarding to live life because there are no walls. Further, this kind of space is free from standard run-off-the-mill option. Further, you can design style or open space the way you want. It's a fun and lively way to live.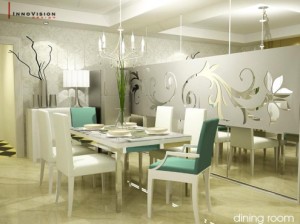 Ventilation- For ventilation- add a decent extractor fan or keep the kitchen area far from the living area.
Noise- Select right kind of flooring and surrounding in order to avoid noise. Avoid soft furnishing and minimize hard surface that can reduce the noise level. A large sofa can work in a similar fashion like an acoustic buffer.  If you don't live alone, its better to partition the area and create zones. It is done to create peaceful ambiance.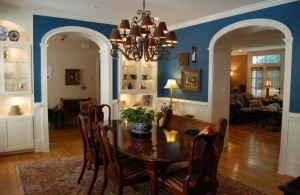 Storage- If you have few walls, then you have minimal storage space. In order to make an open area less cluttered, you need to design in fifty per cent more storage space than you think.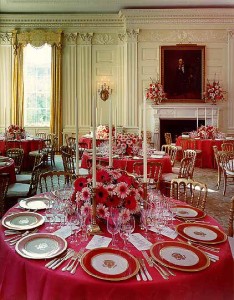 Think laterally and use opportunity for storage to maximize storage but try to retain the minimalist look. The rule is ti keep ceilings, walls and cupboards of similar color.
Coordinate the color of the furniture and walls that make it look less cluttered and more spacious.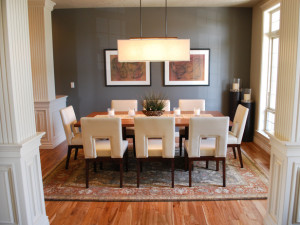 Privacy- Forget open plan principles and go for conventional enclosed bedroom or you can compromise and select a mezzanine sleeping area.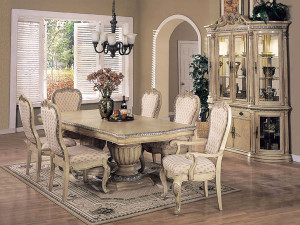 Color Schemes- It is a crucial thing to consider and it needs to be inviting and comfortable. If you have a separate dining room, then you need to take care off. For instance, colors like red, yellow and orange increase the appetite, so they are good for dining rooms and because you don't need to spend there for a long time these colors won't tire you. Another colors that you can opt for is brown, coral and terracotta.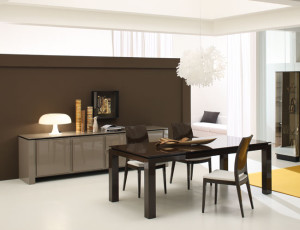 Try to keep white ceiling and incorporate bold color on the walls. It will make the dining room stand out from others, but also make the strong color less overpowering.
Keeping the woodwork white or using a complimentary cool shade also provides balance to the room. You can even use three bold colors in a particular room, but ensure that one is dominant and restrict the other two colors to table linens or to soft furnishing.  In dining rooms strong colors need to be avoided. Like pink and violet tend to be appetite suppressant, so try to avoid it. Also, purple and black is considered as venomous foods, so they also need to be avoided. Green is not acid color. Blue is associated with the natural foods. It won't get gastric juice flowing.
One of the best ways to hide radiator is to use grille or a cover. They are available in different style to fit contemporary settings and it can be easily built into bookcases or seats to cover up radiator. You can use radiators by painting them of similar color as the walls. It won't disappear but at least it won't be even a focal point. You can even make a design statement without using radiators. If you are not able to hide them flaunt it. There are innumerable of styles to choose from. Commencing from traditional cast iron types to sleek sculptures, you can select them as per your requirements.
 
Laminates- It is the most inexpensive options and they mimic wood. Further, they are waterproof and are easy to clean. Though they are not attractive, as real wood, but it exudes charm and elegance. So, add a stylish rug on the top.
Last but not the least; flooring is the crucial thing to consider. You need to clean it on a regular basis and it should be non-slip. Floorboards are pretty easy to clean and are ideal for dining room.