Janmasthami is a time to decorate home. If you know rituals in detail, then you may have noticed how people plan for the puja decorations. There is no best way to decorate home than to invite Lord Krishna in your home and celebrate in grandeur as far as possible. A nice decoration always creates an ambiance for the celebration. If you are planning to perform for this celebration, then here are the ways on how to decorate home for Janamasthami. So, check out these decoration ideas. Incorporate these ideas in your home and spread the cheer for this divine occasion. Here are some tips that we have mentioned in detail:
Chawki- It is the most common and exquisite piece of Lord Krishna. It symbolizes the Lord playing the flute on a chawki. You can buy beautifully adorned chawkis and it can even be made in your home. To make the decoration more detailed, you can even add chunri or printed clothes with different laces or use Mauli or red thread to decorate the same.
Add Swing or Jhula- Swing or Jhula is the tradition that you cannot forget. This swing can be adorned with flowers and you can even add hangings to make it look appealing and attractive.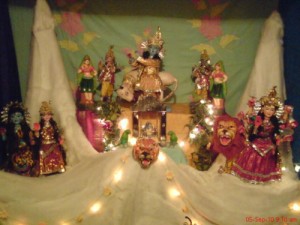 Flute- Flute or Bansuri is age old tradition. Whenever the name of Lord Krishna automatically there comes the name of flute. Placing the flutes in your home at the day of Janmashtmi creates a soothing environment. Further, the divine music makes the atmosphere pleasant and inviting.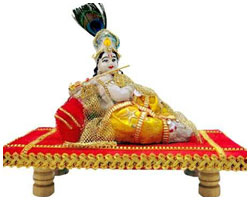 Adding Door Hanging- To make the room look more elegant and beautiful, you can add door hangings to your home. It look extremely elegant on the occasion. To create a more detailed look, you can even add small pictures of Krishna, flutes, peacock feathers, etc. It will change the landscape of room that you are living in.
Wall Hangings- In order to make the room look more interesting, you can place the picture or add the poster of Lord Krishna in the middle of the wall. To create a detailed effect, you can even add more accessories like stones, mirrors, patch work, etc. These wall hangings exudes a nice effect. Wall Hangings made of Krishna image can also prove to be a nice decorative item. A right kind of wall hangings adds a ethnic touch that is always preferred over others. You can also use embroidered cloth panels and these are quiet popular as a decorative.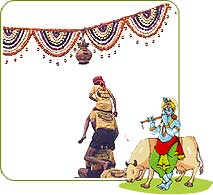 Idols and Sculptures- In the present times, there are different materials that is used to make idols and in order to decorate home, you can add beautiful carvings to your home. To decorate the idol it is crucial to ornate it with right clothes and jewelery. The most appealing decorative piece that you can add is Muralidhar i.e. Lord Krishna playing flute or you can even incorporate Radha Krishna statute. The puja can be performed in home, so after that you can place the same in a sanctified room.