Whether you have got a big entryway with plenty of rooms to spare or a door that leads directly to the tiny studio apartment there are a few things that your entry gateway must have. When decorating the foyer it is important to include following things.
'

Paint the room-Radiant Orchid is 2014's new trend and it is a fresh, bright shade of purple. It is one of those colours that you love it or hate it, the colour is a bit tricky to use. It can be a bold for small spaces and you might have a difficult time in selecting the right colour to complement it. But don't fear! With the right use of paint, accessories and textiles Orchid can be easy to incorporate than you might think. Here's a selection of spaces for all different varieties where this Radiant orchid pops up. Whether it is black, white or neutrals Radiant Orchid is available in a variety of palettes throughout the home.

Add table or shelf- Every foyer should have some kind of surface where you can toss the keys, mail or loose change or do whatever else you pick or drop off as you enter or exit the home. A table or chest with storage is always the best idea if you have enough space, but if you don't have, try to install shelf or wall bracket. You will still get surface area without sacrificing much on space.

Mirror-Most of us like to take a glance at ourselves before leaving the home, so it is always a great idea to add mirror in the home when decorating the foyer. Full length mirror makes a great impact and it makes sense in your space, but otherwise hang it over your table or shelf to get perfect look. Mirrors are also great because it creates false illusion of the space and it reflects light. In a small entry way a mirror can make a large difference.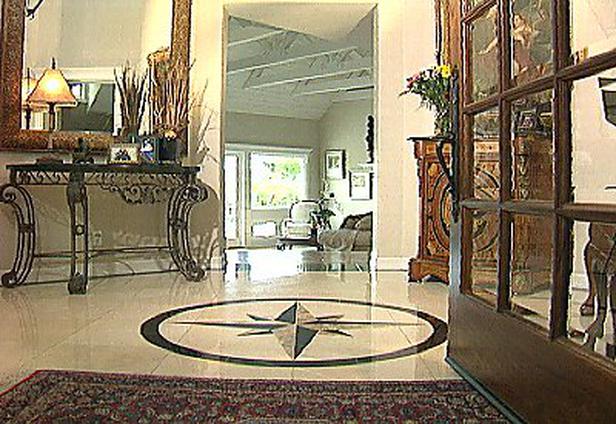 Light- Many foyers will have a chandelier or an overhead fixture that is great, but it is always nice to have another light source like wall sconces or a table lamp. If you come in when it is dark, it's nice to turn on soft light on right away without having to overwhelm the eyes with too much light. This can create soft and welcoming atmosphere and that is really lovely when guests come over.