College kids usually live in dorms and boarding houses; thus it is common for them to share their personal space with a few more people. If you happen to be living in a dorm, then for sure you find it difficult to decorate your part of the room because of the limited space you have.
There are many ways in which you can spice up your part of the room though. By being able to organize your own style ideas, you can immediately start recreating your space so that your bed, study and all other elements in between will definitely reflect your own personality.
Among the simple tips you can start doing on your dorm room space are:
1. Style up your bed. Regardless if you're sleeping on a bunk bed or a single detached cushion, it is important to make your resting area totally posh. Use blankets and sheets that represent your character, so that it will become the focal point of the bedroom area.
2. Add your own lampshade. It is important that you have your own lampshade because you don't want to disturb your roommate with the lights on. Your roommate may be sensitive to light especially when sleeping, and with a lampshade by your side you can enjoy a bright space without causing the other person stress.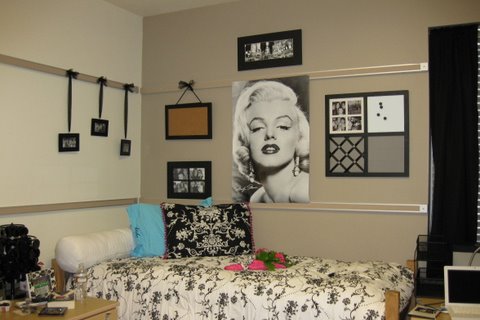 3. Hang some artwork. If you are the artsy kind, then you may as well put up your own portrait to glam up your part of the room. However, if you're not into arts and crafts, then you can just hang a poster of your favorite movie, or a collage made by your friends instead.