While it is true that some of us are little bit colour shy, it's never a bad idea to think about how you can add bright tones to liven up the interior. One of the most interesting and unusual places to bring home colour is the kitchen. While you may be thinking about colorful backsplash or may be even a few candy hued appliances, there is another plave where you can make a big impact with a few shades- it includes your kitchen cabinets. Whether it is sleek, modern or tailored or traditional, kitchen cabinets are unexpected place to add a cool colour splash. Here are some shades for turning a dreary looking kitchen into something to remember forever.

Green Kitchen-To design a stylish kitchen like every room in your home, look for shades with added depth to them. The emerald green shade is a luxurious addition to the kitchen cabinets. With brass hardware, the end result is a space with extremely high end to feel about it.
Rustic Kitchen- Colours can add other necessary elements to the kitchen. These cabinets in forest green colour add to the refreshing style of the kitchen. Green and white colour palette makes the space look open and large.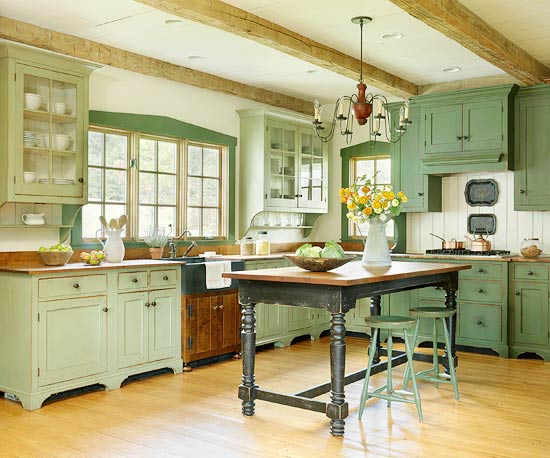 Red Kitchen Cabinets- If fiery red kitchen is not your first choice for the cabinetry, probably it is a good thing. But you may need to consider it once again and take a look at the kitchen. Striking red colour kitchen adds detail to it and makes it the most popular place in your home. The row of bright red kitchen cabinets looks chic and modern.

You can keep red kitchen cabinetry as the statement piece in the kitchen, by using it at a single place. Here, only the kitchen island cabinetry is of red colour. It serves as a wonderful focal point for an otherwise black and white kitchen space.
Purple- And finally don't forget about purple shade. It is so alluring shade and looks great. While a bright purple shade on cabinetry looks wonderful and nice without being overwhelming and bold. Mix purple cabinets with wood tones for a contemporary feel.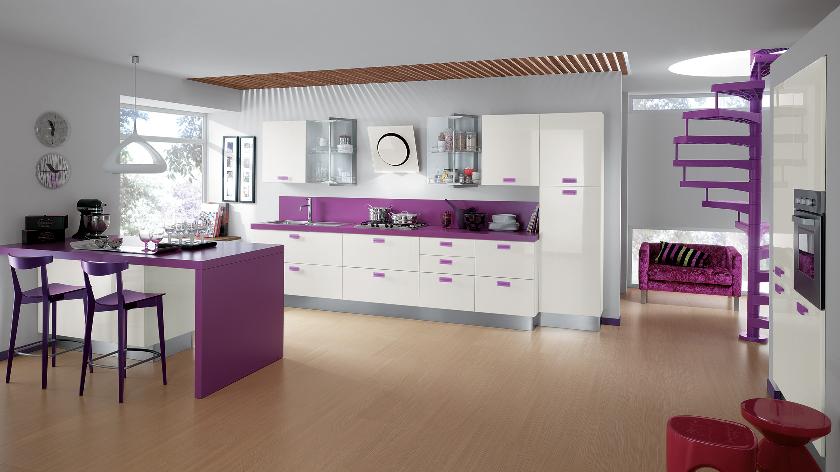 And for something more delicate, go for shades of lilac and purple with gray undertones. In this space, the cabinets add a perfect touch of color and it looks lovely with the white and gray kitchen accents.