Many of us complain about having a small bedroom. This situation however arises due to several reasons, but we all blame it on the limited floor space. But a small bedroom is different from a cramped bedroom-you can easily spot and feel the difference once you have properly utilized the space the room has to offer.
So, if you are looking for ways to maximize your bedroom space, no matter how big or small your abode is, then here are some tips:
1. Scale your furniture. Most bedrooms have big beds, although you don't always need one. If you feel like your furniture is cramping your bedroom space, then have it replaced with a smaller one, the kind that fits you properly. This way, you have more floor space to use, and you get to enjoy your bedroom the way you want it. Of course, the same goes with your study, vanity and closet, if you don't have one built in your room.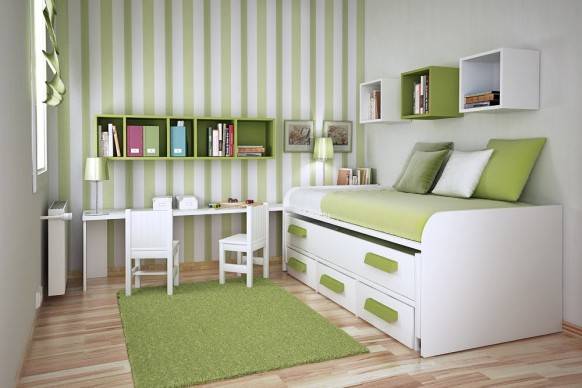 2. Use hanging counters for storage areas. Small bedrooms barely have room for closets and cabinets, thus you may have to settle for small ones that fit. In this situation, you may want to install counters and shelves on one of your walls. These shelves will contain your other items, particularly the ones that you use the most, as well as some of your memorabilia.
3. Add a highlight to make the room seem bigger. Sometimes all you need is a little optical illusion to create a bigger bedroom out of your small space. Adding an attention-seeking accent in one part of the bedroom will definitely create a focal point; this way the attention is directed to that object, and the rest of the room will look more like a bigger backdrop instead.