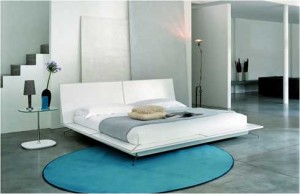 A bed room is a place where people spend their leisure time and sleep during the nights. It is a retreat a centre of activity, a personal area not to be invaded by each and every one. It is a place for relaxation and leaving the stress behind. A clean, well decorated bed room removes all the anxiety and paves a way for attenuation of stress. To have a perfect room integration of perfect room with perfect design is essential.
For a perfect room decoration one can use following ways:
One of the most budgeted ways to decorate the bed room is change of wall paint. A wall paint which matches the existing accessory, linens, window palette. Thinking out of the box would help here try different color combos which usually are not put together by many to give the room a different appearance all together.
Using the furniture which might lie as unexploited in your garage.
Experimenting with the night lamps and even the tube lights can change the entire look of the bedroom.
Use piling of pillows as an option tries mixing of large and small print patterns.
Hanging art work and photo frames may be another one of the cheap option available to give the bed room an entire different look.
Using shelves as a place of storage as well as decorative piece.
Use some brightly colored rugs to cover up the floor space.
One of the inexpensive ways to decorate the master bedroom is using mirrors. Mirrors are affordable and are available in various shapes and sizes and also different patterns.
One can also opt for stylish drapery but this is one of the most expensive methods hence try going for metal hold backs or some attractive nylon scarves.
Wallpapers can also change the personality of the room altogether.
A night stand and wooden head board makes the room more elegant and stylish.