The outdoors should be a place of good vibes and nice décor. Rattan furniture can be a great addition to a terrace or patio. It gives you that breezy feeling, which is best if you want to go for the tropical ambiance. There is lots of rattan furniture that will simply blow your mind. Let's take a look at some of them.
If you are watching The Voice, this pool is somehow similar to Simon Cowell's. This lovely place is accentuated with a nice rattan furniture with a unique shade. It is very inviting and great for outdoor. Top it off with fluffy, comfy throw pillows and you are set for a good mood all day.
This is quite a cool egg! This is the rattan version of a swing. The shape is very unique and it comes with a hanging style that makes it even more distinctive. This is truly a conversation piece that is great for the outdoors.
An outdoor bed in rattan can also be nice. Try this irregular shaped bed that is very sleek and modern. This is best if you want to hang out in the pool area, grab a good read and this is the best place to go if if you want to get a nice tan.
You may also go for a more classic look, you can choose rattan furniture with the usual shape and size. The traditional ones goes in brown color with simple lines that you can just top off with a chair mattress.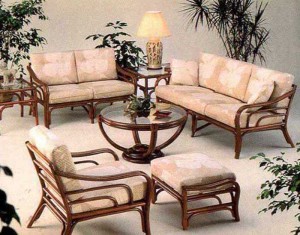 There are so many things that you can do with a rattan furniture. What's good about using rattan is that it is eco-friendly. There are a number of wood choices that you can pick including water hyacinth and even banana peel. They are very lightweight too and can increase in value over time. Below are some interesting colors and weave style that you can choose for your rattan furniture.