Interior Decoration used to be a privilege, but now it has become part and parcel of every home. Here we have defined some interior decoration myths. Now, you need to follow these tips to get a perfect abode. With times fashion and décor has changed, but in order to remain current, you need to know the changed rules of interior decoration. There are two thought processes- example 1 rules are not meant to be followed and second there is no rule with regard to the interior decoration.
Myth 1-Decorate small room with white color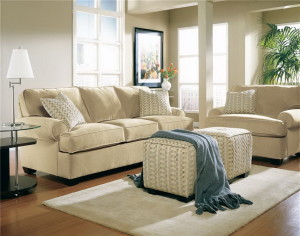 It was once believed that color white make the room look big or simply it could brighten up the room. The truth is it is partly true. Size and scale of the room have more to do with wall color and furniture. Sometimes, a small room makes the place inviting, cozy and intimate. There is nothing wrong with a small apartment that is inviting and comfortable. Addition of colors to walls, adding bedding and accessories creates a great impact on how your home looks.
Myth 2-Small room needs to have less furniture
It is perhaps the biggest of all myths. Small furniture in a small space will make your home look alike dollhouse. So, a small bedroom need not to have a king sized bed, but of course it can have a queen sized bed. Instead of adding many kind of furniture items, add one or two large piece of furniture. It will make room appear bigger. When the spaces are too small, and then think in terms of functionality and style quotient. An armoire creates a big statement and it also serves as a storage space. An old steam trunk at the foot of bed creates an elegant and chic look.
Myth 3- You need to abide by the rules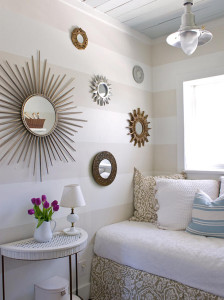 It is an acknowledged fact that rules are meant to be broken. So, while decorating your house, you need to add personal taste and style to the room. It should be no 1 rule for your interior decoration. You need to think what do you like in term of colors, styles, hobbies, etc. What kind of artwork do you prefer? Do you like classic things or modern things? Do you prefer DIY job or you like to hire some professional? The home is reflection of your taste and preferences. So,  it is not necessary to abide by conventional rules.
Myth 4- Dark rooms make space small
It is a myth that dark colors make an apartment look small. No doubt, dark rooms add warmth, texture and dimension to the room. They lend sense of glamour, style and drama to the room. Dark walls acts as a great canvas. You can even hang a piece of art, and it will definitely create a powerful statement. The less color to the walls makes space look small than using dark colors on the wall. Keep the furniture in proportion to the room. Rooms tend to look small when they are not tidy or simply when they are cramped.