Taking a shower in a glam and pleasant bathroom is a rejuvenating experience. Here's how you can turn up your dull bathroom into stylish and glamorous bathroom:
Deck up the interiors of the bathroom

Commencing from the bath tub to bathroom fittings, ensure that there is a class and plan the combinations accordingly. Match the wall colors, so that it matches with the bathroom décor or select reverse colors or contrast colors to add spunkiness to the bathroom.
Change the color code of the bath place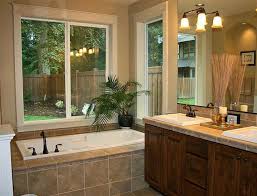 Starting from the bath linen to colors of the tiles and wash basin, plan what colors would complement the bathroom and get the bathroom designed accordingly. Color therapy works even in the bathroom. So, pick the color sheet and work out for some of the best color combination for tiles, fittings, and walls.
Add technological innovations

From installation of a wireless phone to making the bathroom wi-fi to installation of a touch screen panel along with internet connectivity, there are a range of options that you can think of to revamp the bathroom and this is how you can create bathroom an envious and special place.
Incorporate some spa essentials

It includes oils, body and face scrubs of your choice and a bit of aroma therapy. What else one can demand of? May be a sauna. Well, if you install it, it is wonderful or otherwise a hot shower bath will rejuvenate you equally.