Is your child fascinated with cars, creating a race car themed bedroom is really a great idea to consider. It not only increase aesthetic appeal of child's room, but the child will take pride in his room and therefore it is important to learn on how to decorate sports car themed child bedroom.
The easiest way to create this kind of bedroom is to get a nice set of race car bed, bedding, comforters and pillows. The bed is obviously a great idea, but its not all there is furnishing a bedroom with a car theme. There are many other furniture and accessories in the bedroom that can be altered and blend into the overall theme. There are many other accessories that will set overall style of the bedroom.
Wardrobes and study desks can even be made of similar color shapes and can be adorned with posters and other gadgets like car dials, logos and race tracks. Some of the ideas can range between car lamps, bookmarks. Of course, you can even opt for race memorabilia like flags, photographs and toys are the must.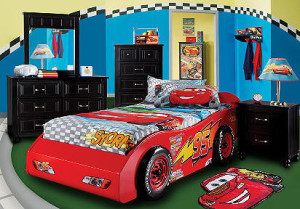 In the similar vein, matching wall paint or wallpapers can be utilized to enhance the overall style and blend it with the race theme. Typically, two colors can be used, with one color that can cover upto third up from the floor and the other the rest of the way to the ceiling. Borders can also be painted to separate two colors, with the border usually being shaded of either wall color or high contrast colors like black or white. Red and blue colors are commonly used with the race themes.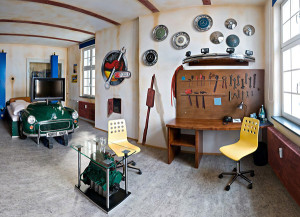 Another great idea is to paint a race track around the room instead. Dark grey paint resembling asphalt can be used to mimic the track. Before venturing on your project, use masking or painter's tape to outline the track sides. When you tear the tapes after the painting, the tracks will look professional and straight. You can even paint black and white checker boxes like the finish line on a real track. Again, the tape method really works well, except the most challenging part is to paint the track of course. At the end of it all, you can even add mini car race car models on the walls to finish the race track. If you are not too good with the paint, you can even opt for the themed wall papers. You can even create personalized designs for the store to print the wallpaper to put them for you. Race car beds, matching furniture, wall designs, all this make your child bedroom blend of art and playground. It will be paradise for your children.