For most of Muslim families, Eid is the most memorable and happy moment and it is a good break from routine schedule. The most important thing that you need to do is to get up early in the morning, conduct daily rituals like bath offer prayers to God, eat breakfast, pray, hug and exchange Eid greetings or may be go out to meet some friends and relatives. So, why not make this year of Eid more special than any other time period. Here are some ideas on how you can do so:
The first and foremost rule is to plan Eid decoration in advance. For this, you can call a family meeting, and there you can discuss about how to decorate home for this special occasion. Here you can also talk about the cuisine and divide the cooking responsibilities rather than putting pressure on one single person.
Here are some ideas on how you can decor home for Eid festivity:
Take a look at the Eid buttons- These buttons are ideal decoration piece for your home. It will make your home look splendid and gorgeous. You can even sew them on your shirts. It can be easily made with the help of paper and resins.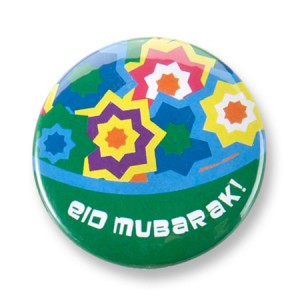 Another great idea is to decorate home with greeting cards.

Quilled Crescent- Decorate home with Quilled Crescent card along with cute stars. These come in different color combination and it is really a wonderful idea.