The kitchen is quintessential part of home. Whether your style is sophisticated, rustic or your preference is earthy, bright or neutral white- you'll find loads of inspiration or ideas. All you need to do is to find a right design for your kitchen.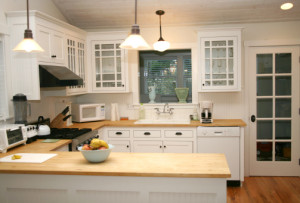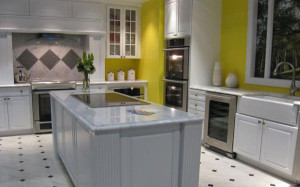 Lights- Dramatic hanging lights illuminate the kitchen and make it look lively. For example, adding a heavy gauge raffia on the wall adds textual interest. Accents in blue, add distinctiveness to the kitchen.
Adding a timeless style to the kitchen- Warm color add timeless look to the kitchen, also you can blend it with ivory and bisque cabinets.
 White Kitchen- A white kitchen not only make your kitchen look bigger, but it is contemporary, urbane and inviting. Adding lighting fixtures like chandeliers and pendant turn your kitchen an enviable space.
Choosing your kitchen design from different decorating ideas can be an incredible experience. Here are some ideas:
These are simple and inexpensive ways to give your kitchen a new look.
 

Replace the cabinet door and fronts. Then you can also change the fixtures. It will change the look and feel of the kitchen.

 

Another idea is to paint the kitchen or change the hardware to facelift the kitchen. For instance, you can add knobs, handles or pulls.

Use solid MFD doors. They are made of medium density fiber board or timber. This type of door can be painted to create a look that you may like.

 

Use colors to renovate the kitchen is another example of inexpensive face-lifting of kitchen. You can paint your kitchen walls and cabinets of the kitchen. When it comes to painting the cabinets, you can even use some decorative finish. For instances, using distressed finish can give the kitchen a dreary look.

 

Another area where you can change the look of the kitchen is to update the faucet and the sink. To give upliftment, it is not necessarily to buy expensive sinks, you can buy an inexpensive faucet. Moreover, they are available in various colors and styles. Commencing from porcelain to stainless steel, and acrylic there are innumerable materials that are available for sinks. For faucets, there are numerous designs and finishes, that you can select from, of course depending upon your budget.

 

Other idea is is to add a kitchen island. Kitchen island is best for adding counter space and it can be turned into a gathering place. If you don't have enough money, go for kitchen art. A kitchen cart has wheels, drawers and shelves, place for utensils. It is a kitchen with modern outlook.

 

If you want to remodel a small area of the kitchen, add a kitchen backsplash. A kitchen backsplash can really make a dreary looking kitchen to inspiring and beautiful kitchen. Kitchen backsplashes are available in different colors, styles and materials. The material for backsplash includes stainless steel and wallpaper. The cost varies depending upon materials that you choose.