A dash of red color brings zest to the dining room. Opposed to popular views, a red dining room is not dangerous, rather you can call it as a bold, dramatic color that commands your attention. It makes a beautiful statement, when it comes to home décor. Most people don't consider red as safe color rather they go for neutral colors like beige and white. But this color is in vogue. This bold and dramatic color brings zing to the room. Here are some tips that are worth considering: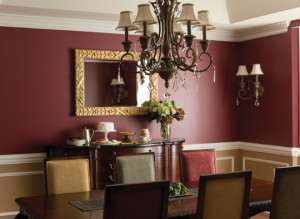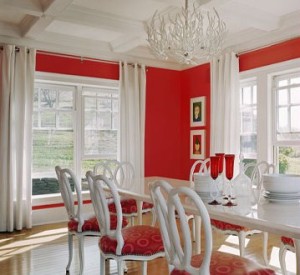 If your dining room is located on the northern side of home, you may seek out for cooler colors like blue and white. Warm, rich colors blend beautifully for north facing rooms and thus making it feel warmer and inviting. Red is a wonderful choice for stylish room because the bold color draws more attention to architectural features.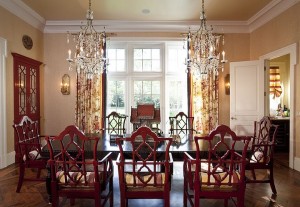 If red isn't your choice, consider warm red. The red drapes add dramatic feel to the bedroom.
To make your room look stylish, add chandelier to the bedroom. Showcase the beauty of the room against the backdrop of gorgeous red walls.
Paint the walls in red color. It is truly a bold choice, but worth doing.
If you are worried about adding bold color to the bedroom, try installing a chair rail and blending the room color with white. Red and white is always a great combination. For more effects, you can even add paintings or other kind of wall décor.