Celebrating Easter at home can be felt most in the decorations. You may not necessarily adopt a spring theme to your home, but with the right accessories, you can still feel the Easter vibe.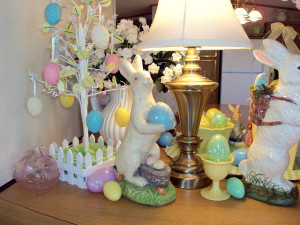 Decorating for Easter is actually fun especially for kids. They don't just get to find Easter eggs, but as well get a better appreciation of nature's perks.
If you are interested in having an Easter-themed home, then here are some accessories that you may want to use. Just a tip: you can easily make them on your own.
Easter Egg Nests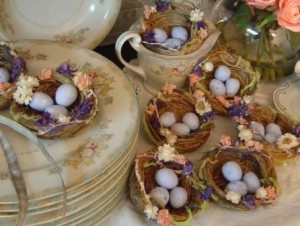 Easter egg nests are pretty common during the season, even for homes who are not hosting egg hunts. Egg nests may serve as decors for candy jars and chocolates, or as plain accents to give a pop of color to the table surface.
Egg nests can be made by wrapping branches and twigs in a circular form, almost the same as a wreath. But they shouldn't have an open center, thus you have to weave a thin layer at the bottom to form a basin. The nest can be varnished with clear lacquer to retain their natural appeal without wearing out easily, or be painted brown or green.
Fresh Wreaths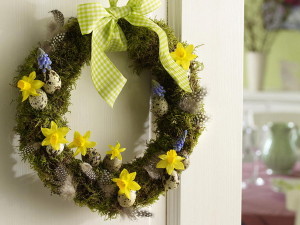 Wreaths are likewise made of branches and twigs, and you can do them in the same manner as egg nests. You can keep an open hole in the middle though, as they are hung on the walls and decorated with flowers or painted eggs.
If you're not into weaving branches into wreaths, you may go for a circular wooden base like that of a hula-hoop, and wrap it around with leaves and pliable branches for a more natural look. Then you can add accents, such as bright dried flowers and bows before hanging it on the wall.
Flower Baskets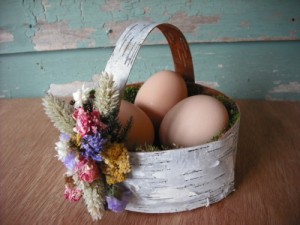 If you're not in the mood to create wreaths or nests, then you can just grab an old wood or straw basket and fill it with flowers. Flower baskets are popular during Easter, and you can add blooms such roses, carnations, and tulips. Flower baskets are good as centerpieces on living and dining room tables, and as well as vanities.
Teacup Setups
You may not be drinking tea anytime soon, but displaying your teacup set is a good way to celebrate Easter and spring. Teacup sets can be placed on side tables as ornaments, and they can be filled with flowers or potpourri to add a more natural glow.
Rustic Candleholders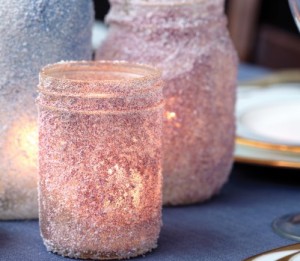 Rustic candleholders are also popular during Easter. You can make these holders using empty wine bottles or jars, and have them tied with fancy bows. Candles are usually lit up during evenings to achieve a warm cozy vibe in the house, and to retain the spring fever even after the day has ended.
When creating Easter-inspired decors, it is important that you use vibrant pastel shades and natural earth tones. The pastels give a pop of color in the house, while the earth tones keep them in touch with nature.