Whether your kitchen is traditional or rustic or it has become outdated over the years, then there is a need to revamp it or get used to it. Getting a kitchen interior designer is an easy option, but it can surely make a hole in your pocket, so it is better to rejuvenate the kitchen in a way that is pleasing and elegant. Here's how you can modernize the kitchen decor efficiently and cheaply.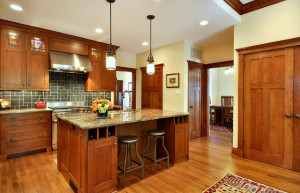 Change your cabinets
There are a few elements that reflect your kitchen image. One among such element is paneling of the cabinets. You can completely modernize the kitchen by changing the way cabinets look. If their size is standard, there is no need to change the elements, only the panels will be replaced. It will be fairly inexpensive and effective way to change the look of the kitchen. To get modern look in the kitchen use wenge, aluminum and red lacquer and some of these kinds of materials and colors can also modernize the kitchen cabinets. Another way to change the look of the kitchen is to mix and match like you can use olive wood with white lacquer or terra cota elements for better look. To give brightness and lightness to the room, you can get doors frosted with glass or patterned.
Install new counter-tops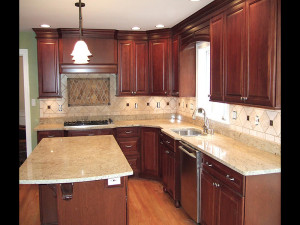 Changing kitchen counter tops will give kitchen an instant facelift. To do this, there are enough of materials available like raw wood or stone, which convey a sense of authenticity to the kitchen.
For modern components, there are range of colors and patterns to bank upon. Moreover, it is easy to maintain and easily affordable. The best part of it, it mimics most of other materials.Again one more option is to mix the materials. As a reminder, your main counter should be of measurement between 20 and 25 inches wide and 1 to 2 inches thick. For height, the ideal measurement is something that matches the average size of the future home cooks.
Modernize the neglected area

The wall area which is located between the cupboard and worktop is often neglected. It is commonly seen that traditional kitchens are tiled, but if you don't like such style, there is nothing that prevents you from innovating.
You can opt for aluminium, stone or synthetic laminate or even for contemporary designs. The advantage of such designs is it is possible to cover old tiles. You can even opt for opaque, tempered glass style, which are available in several colors. If you want to make the things simple, you can repaint the existing tiles. There are layers and specialty paints available for the same.
Bring a change in walls and floors

To make the kitchen more modern and contemporary, it is imperative to modernize walls and flooring. It is an easy and inexpensive solution to incorporate PVC flooring on old tiles. Some may even go for trendy textures and polished surfaces like concrete.
You can even find tiles and you can easily lay down with simplified clip-on system. As for the walls, a colorful and eye catching paint will give instant and youthful uplift to the kitchen. Sometimes changing a single element can change the look of the kitchen.